Stuart Meyers grew up in the heavily Jewish Philadelphia suburb of Voorhees Township, New Jersey. Yet, even though he was Jewish, being queer meant that he often felt like an outsider in Jewish spaces.
Fortunately, as an adult, Meyers — a dancer, artist and nightlife events producer — realized that, instead of abandoning one identity in lieu of another, he could create a vibrant space for queer Jews to celebrate both aspects of their identities.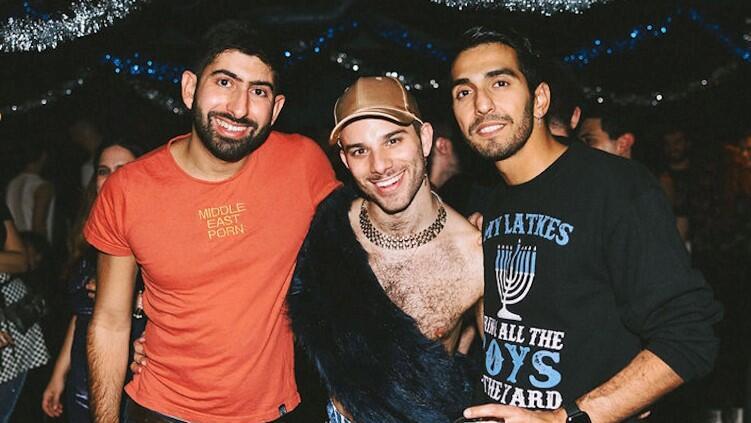 "I didn't have an experience [growing up] of being able to bridge my queer and Jewish identities — I just was made to feel like they couldn't coexist," Meyers, 32, told the New York Jewish Week. "I started to have this desire and longing to understand what it meant to be Jewish and bring these two identities together."
In 2021, the Bushwick, Brooklyn resident developed "Flaminggg," a queer Jewish nightlife experience that aims to bring Jews of all gender expressions and sexual orientations together to loudly and proudly celebrate their Jewish and queer identities. (The name, Meyers said, stuck around after he threw his first Hanukkah party. "It was easy to affirm: We are a fiery, bright burning bunch whose light, despite it all, is eternal.")
Flaminggg parties, of which there have been four so far, include DJ sets that incorporate pop music, house music and Jewish music, as well as drag performances, dancing, conversation and Jewish rituals. Next week, Flaminggg will host "Flamingggtaschen," its second-ever Purim party on March 4, at 3 Dollar Bill, a queer club in East Williamsburg. These days, the winter holiday, when cross-dressing and role-playing are commonly a part of even traditional festivities, is often associated with queer pride and a celebration of coming out,
"It's a sensitive thing," Meyers said. "People who are queer but secular often say, 'I do not want to be in a Jewish space.'" Some queer Jews had experiences growing up where they didn't feel like they belonged, while others were unsure of what to expect, he said. Still others have participated in — and not enjoyed — queer Jewish events that are "not sexy" and felt antiquated, he said.
"I think being queer and Jewish is sexy, magnificent and magical and so related and I want to share that," Meyers said. "That is the driving belief in what I'm trying to create."
Meyers believes that Flaminggg is the first intentionally Jewish nightlife experience for queer adult Jews that is unattached to a synagogue or larger Jewish organization. "It felt like no one was doing this kind of programming, that was artistically and thoughtfully making queer Jewish space in a way that was not just a 'bright fluorescent lights, community hall,' kind of Judaism, which I feel like a lot of people want to steer clear from because it just doesn't feel meaningful," Meyers said, adding: "Those bright overheads don't flatter a queen's skin!"
Of course, there are other organizations and companies that create events for LGBTQ Jews, such as Hebro and Jewish Queer Youth. While Meyers has worked with both in the past, they serve different demographics — cisgender gay men and younger adults mostly with Orthodox backgrounds, for instance. New York City synagogues and Jewish spaces like Congregation Beit Simchat Torah and Lab/Shul are also queer-driven, but, again, secular Jews may still be turned off by some of the synagogue and Jewish ritual aspects. (Meyers is also producing and hosting Lab/Shul's Purim party extravaganza at House of Yes this year, which will feature drag performances, a Purim spiel and a dance party.)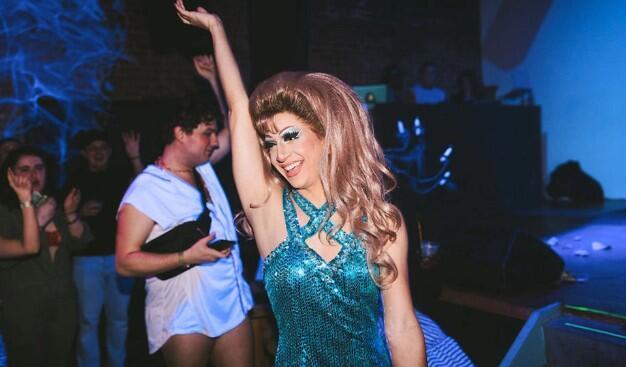 Flaminggg, by contrast, aims to draw a diverse crowd — participants represent all sexualities and genders, and the parties are open to any level of religious observance (or not). Meyers hopes that his events will reach people who have previously not entered Jewish spaces and want to learn more about and celebrate Judaism and queerness in all its forms and nuances.
And, of course, Flaminggg differs from other queer, Jewish events in that it is a nightlife-oriented, night-long party. Quoting Jewish anarchist political activist Emma Goldman during a Zoom interview, Meyers joked: "If I can't dance to it, it's not my revolution."
This year Purim's party, which is set to run from from 9 p.m. to 4 a.m., will include a spiel (a comic retelling of the Purim story), a DJ set and other diverse queer Jewish performances. Meyers expects around 300 attendees.
"I've basically been waiting for this Purim party ever since the Hanukkah party ended," Yochai Greenfeld, a drag performer who performed at Flaminggg's 2022 Hanukkah party, told the New York Jewish Week.
That event, he added, was "probably one of the best parties of my life."
"There are a ton of Jewish spaces to party in, but those tend to be somewhat uninviting for queer people to express themselves within those spaces," said Greenfield, whose drag persona is named "Abbi Gezunt" (Yiddish for "so long as you're healthy"). "The queer party scene is also mega-oversaturated, and there are tons of different spaces to explore. However, it can sometimes feel a little uncomfortable to express your Jewishness in those spaces.
Greenfeld added that being around people with similar backgrounds allowed for empowering conversations on the sides of the dance floor, something he said he'd never experienced at other parties.
In addition to nightlife, Meyers has plans to grow Flaminggg into a more robust programming venture. Funded solely through donations and ticket sales, Meyers hopes to keep it that way so as to remain independent from any political or religious agendas. Currently in the process of establishing Flaminggg as its own LLC, Meyers envisions branching out into Shabbat dinners and queer Jewish study groups.
Ultimately, Meyers hopes that through Flaminggg's events, attendees will feel more ownership over their Jewish identities. "All the Jewish programming I do is for building a deeper and deeper possibility of people coming into a space and going: 'I've never felt so affirmed in being both queer and Jewish,'" he said. "Creating a platform where we can celebrate all of that is really special."
Flamingggtaschen: A Queer Purim Party is on Saturday, March 4 at 3 Dollar Bill (270 Meserole St.) Get tickets here.