Peres and Huldai celebrate
Photo: Ofer Amram
In April 1909, a raffle of plots was held on the beach between members of the Ahuzat Bayit association. That day is considered the day Tel Aviv was founded.

Today, 100 years later, the city has developed, skyscrapers have been built, wide roads have been paved and the population of Tel Aviv is nearing 400,000 people.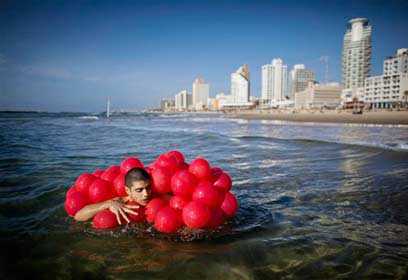 The magnificent celebrations in honor of Tel Aviv-Jaffa's 100th anniversary were launched Thursday evening at Bialik Square in the city center. President Shimon Peres and Mayor Ron Huldai wandered around the street wearing festive white hats and shaking the hands of passersby.

var so = new SWFObject("http://www.jerusalemonline.com/flash/item63Y.swf?autoplay=n", "JerusalemOnlinePlayer", "407", "393", "8", "#ffffff");

so.write("flashcontent");

The celebrations will continue Saturday evening with a huge concert at the city's Rabin Square, which is scheduled to begin at 8:30 pm. Some 1,000 artists, dancers, actors and singers will perform over several stages measuring about 1,000 square meters (10,763 square feet) in size.

The high point of the event will see the mayor light 100 candles on a gigantic cake.

The artists slated to perform at the concert include Berry Sakharof, Miri Mesika, Matti Caspi, Shlomo Gronich, Danny Robas, Dana International, Alona Daniel and the Monica Sex rock band with 70 members of the Israeli Philharmonic Orchestra conducted by Zubin Mehta and Ilan Mochiach.

The Rabin square area will be closed to traffic from the early evening hours.