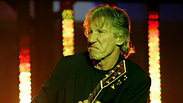 Roger Waters. 'Compares Israel to Nazi Germany'
Photo: AFP
Khamenei, Waters top 2013 anti-Semites list
Simon Wiesenthal Center gives two first slots on its top-10 list of anti-Semitic and anti-Israel slurs to Iranian supreme leader Khamenei, Turkish Prime Minister Erdogan. Former Pink Floyd frontman Roger Waters ranks fourth for 'using his status as a musician to denigrate Judaism'
The leaders of Iran and Turkey and musician Roger Waters top the 2013 "anti-Semitic and anti-Israel slurs" list released Monday by the Simon Wiesenthal Center (SWC), a Jewish human rights organization dedicated to fighting anti-Semitism and Holocaust denial.

The first place was given to Iranian supreme leader Ayatollah Ali Khamenei. According to SWC, even as the world's top diplomats celebrated the Iranian nuclear deal, few leaders condemned Khamenei for his "unabated public slurs and genocidal threats against the Jewish state."

Referring to Israel as the "rabid dog in the region," he added that "its leaders look like beasts and cannot be called human." On the eve of Iranian elections, Khamenei declared, "Zionists" were the real power in the United States.

Not Anti-Semite?

Pink Floyd co-founder says he never intended to offend Jewish people with use of Star of David in show, his support for cultural boycott of Israel. 'I worry about it every day. It's a huge concern to me that I would be considered to be a bully'

Second on the list of anti-Semites this year is Turkish Prime Minister Recep Tayyip Erdogan. In response to anti-government demonstrations earlier in the year in Istanbul's Gezi Park, Erdogan, blamed the public's expressions of dissent on the so-called "interest rate lobby" – a term defined by his deputy as "the Jewish Diaspora."

Later, Erdogan also intimated that the Egyptian military's ouster of Mohammed Morsi was instigated by Israel.

The third place goes to UN special rapporteur Richard Falk, who accused Israel of "genocidal intentions."

The fourth place is shared by the American Studies Association (ASA), which voted in favor of an academic boycott of Israel and former Pink Floyd frontman Roger Waters.

According to SWC, "The whole Arab world is going up in flames and the ASA has voted to malign the only true, free society left on the map of the Middle East. This is an act of infamy; not only attacking Israeli academic institutions – but Jews everywhere."

Waters, one of Israel's harshest critics and a leading BDS activist, "serially slanders Israel as an apartheid state, compares it to Nazi Germany and denies that the Iranian regime poses any threat to the Jewish state," SWC explained.

"At a time of resurgent anti-Semitic hate crimes in Europe, Waters used his status as a musician to denigrate Judaism when he affixed a Jewish star on a floating pig during his summer concert tour across the continent."

The list also includes the United Church of Canada for endorsing the boycott of Israel; Hungarian extreme right-wing party Jobbik, which "continues to promote its hatred of Jews" after its deputy leader called for a registry of all Jews in Hungary as a security measure last year;

and Lebanese singer Najwa Karam, the Arab "face" of L'Oreal who serves as a judge on "Arabs Got Talent," the wildly popular version of "American Idol," who chose Adolf Hitler as one of the famous persons who could create the "ideal man" due to his "persuasive" speaking ability.

Also on the list is the Pine Bush School District in upstate New York for failing to protect its Jewish students against anti-Semitic slurs and physical abuse.