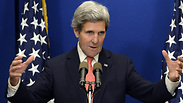 John Kerry
Photo: Matti Stern, US embassy
Ya'alon's office issues letter of apology to Kerry
The defense minister 'apologizes if the secretary was offended by words attributed to the minister,' letter says. Israeli official reports Netanyahu contacted US top official in attempt to smooth over controversy sparked by defense minister's comments
The office of Defense Minister Moshe Ya'alon issued a statment on Tuesday, saying: "Israel and the United states share a common goal to advance the peace talks between Israel and the Palestinians led by Secretary Kerry.
"We appreciate Secretary Kerry's many efforts towards that end. The defense minister had no intention to cause any offense to the secretary, and he apologizes if the secretary was offended by words attributed to the minister."
Related stories:
Prime Minister Benjamin Netanyahu spoke by phone with a senior US official in a bid to smooth over a diplomatic controversy sparked by comments attributed to Defense Minister Moshe Ya'alon, an Israeli official said on condition of anonymity. The official added that Ya'alon also discussed the matter with US Ambassador Dan Shapiro.
Earlier on Tuesday, Yedioth Ahronoth reported that the defense minister suggested that US Secretary of State John Kerry's quest for Israeli-Palestinian peace was messianic and obsessive.
"The remarks of the Defense Minister (Moshe Ya'alon), if accurate, are offensive and inappropriate especially given all that the United States is doing to support Israel's security needs," State Department spokeswoman Jen Psaki said in a brief statement that constituted a rare rebuke to close ally Israel.
"To question Secretary Kerry's motives and distort his proposals is not something we would expect from the defense minister of a close ally," White House spokesman Jay Carney said.
Prime Minister Benjamin Netanyahu stressed that "The United States is our greatest ally," noting: "We are working in cooperation with the US president, the vice president… and the secretary of state. We are making efforts to promote peace, security, and stability in the region. We maintain our interest, while cultivating this important tie between the two nations. We strive to reach a true peace accord. We do not want a bi-national state but we also don't want an Iran-backed state that will try to annihilate the State of Israel.
President Shimon Peres also expressed his support of Kerry, saying: "Our ties with the United States are of great strategic value to the State of Israel. We thank the president of the United States, Barack Obama, for his responsiveness to our security and intelligence needs. There is no doubt that he wants to see a Mideast that lives in peace. Secretary Kerry's unusual determination to achieve peace reflects and serves Israel's deep desire for peace and give a chance for a mutual understanding.
Foreign Minister Avigdor Lieberman also commented on Ya'alon's comments against Kerry: "Israel and the United States have a special bond. The US is Israel's bravest ally and has proved that many times.
"Having a public, boisterous debate is not right and it does not contribute to either of the parties. There is no place for personal attacks, even if there are occasional disagreements." Liberman added.
Earlier Tuesday, Defense Minister Moshe Ya'alon made remarks about US Secretary of State John Kerry, calling his efforts "misplaced obsession and messianic fervor. His words sparked a rash of furious comments in the Knesset's hallways on Tuesday, with chief negotiator Tzipi Livni accusing him of damaging bilateral relations.
Ya'alon expressed his great skepticism of Kerry and the US's efforts, both in private conversations in Israel and in the US.
"The American security plan presented to us is not worth the paper it's written on," Ya'alon said. "It contains no peace and no security. Only our continued presence in Judea and Samaria and the Jordan River will endure that Ben-Gurion Airport and Netanya don't become targets for rockets from every direction. "
He called Kerry's passion out of place.
"American Secretary of State John Kerry, who turned up here determined and acting out of misplaced obsession and messianic fervor, cannot teach me anything about the conflict with the Palestinians."
Moran Azulay, Yoav Zitun contributed to this report