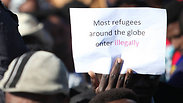 New Israel Fund conspiracy? Asylum seekers' protest
Photo: Gil Yohanan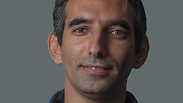 Avi Dabush
Photo: Noam Rifkin Panton
Let's start with a difficult question: Who argued in regards to the refugee problem that "the discourse must be humane. We are talking about people, an inseparable part of the State of Israel's Jewishness. This is the way to treat all human beings as bearers of the image of God"? And who said about the same issue, "We remember what it's like to be refugees. So we must act in the acceptable and correct manner from an ethical and universal aspect"? Stay tuned for the answer.

The refugee question is not a simple issue. On the one hand stand the history of the Jewish people, values and constitutional rights, as well as international conventions Israel has signed, and on the other hand there is a social difficulty and the need to maintain geographic and demographic borders.

Different View

Op-ed: MK Danny Danon says anti-Israel groups like New Israel Fund must not be tolerated

Israel's last few governments decided not to decide, and the residents of southern Tel Aviv and other weakened neighborhoods are the ones paying the price. Those who declaim from every stage, "Charity begins at home," are the exact same people who lifted their hands in favor of another state budget and another one which made the neighborhoods' residents poor to begin with.

But there are those insisting on not letting the facts confuse them, and in their eyes it's all simple: The Africans, no matter where they came from and why, must be deported.

And the asylum seekers' protest? It's just another conspiracy by the New Israel Fund (NIF) aimed at undermining the State of Israel's Jewish character. A direct continuation of the social protest (a "conspiracy" that got hundreds of thousands on the streets), the gas royalties battle followed by the struggle against gas exports, freedom of choice in marriage, etc, etc. Because after all, it's impossible for human beings, middle class, refugees and neighborhood residents to get organized to promote the vision burning in their hearts.

It turns out that Israel has not had for years such an influential body which succeeds in causing millions to march in a sort of sophisticated satanic plan, which only very few of us understand. Not general and local elections, not capital pyramids. Their influence is worthless. The New Israel Fund humiliates and glorifies, enriches and tortures. Like they used to say in our neighborhood in Ashkelon: "Yeah, right!"
Where is the money from?
For those who are still interested in the facts: The New Israel Fund supports hundreds of organizations a year, and its activity has been enjoyed by many, at different scopes, for decades: Ethiopian immigrants, Mizrahim, Russian speakers, Arabs, haredim, women, etc. The aid is given in a variety of issues: Environment, employment, the battle against racism, human rights, housing and planning, health, gender equality, shared society and more.
Those who are really and seriously interested in knowing where every shekel goes to are invited to visit the NIF website and read its reports, which have received praise and prizes from the US associations registrar. And where is the money from? From American Jews who love Israel. Yes, just like the Jewish Agency or KKL, the federations which donate to every city and council we live in, as well as the Joint. Jews who wish to support trends of love of man, mutual guarantee, narrowing gaps and building an exemplary society, in the vision of the Proclamation of Independence. It's that simple.
Do you have something against the projects and stances of the New Israel Fund or any other civil organization? That's legitimate. No one is free of criticism. On the contrary. As someone who absorbed the values of Judaism, disagreement for a purely spiritual purpose is a deep way of creating a lively, smart society with a watchful eye. This is the way which has built the Jewish people as a significant people in human society. But this sentence continues. Any disagreement which is not for a purely spiritual purpose is destructive.
People and bodies whose sole purpose is to accuse, look for traitors and condemn subversive people are quarrelsome people. The last thing we need is to provide them with power, be afraid of them and give them quiet legitimacy. The human and local history, starting with the zealots' revolt up to our time, explains exactly why. And if we get confused by the facts, we will harm our future and our children's future.
So who is responsible for the quotes I started off with? Rabbi Yuval Cherlow, one of the leaders of Religious Zionism, and Shimon Peres, the State of Israel's president. It seems they have also been drugged by the New Israel Fund, don't you think?
Avi Dabush is the programs director at SHATIL, the New Israel Fund's initiative for social change