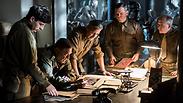 George Clooney's new 'The Monuments Men' movie
A Jewish member of the "Monuments Men," a team of experts who rescued Nazi-looted artworks during World War II, accepted a medal from his German hometown at the weekend, media reported on Sunday.

Harry Ettlinger, 88, who had already attended a red-carpet screening of George Clooney's new "The Monuments Men" movie about the group at the Berlin film festival last week, received the so-called Staufer Medal at an art museum in Karlsruhe, southwestern Germany.

Historic Paintings

Paintings, which go under hammer during Sotheby sale, were among tens of thousands of works recovered by art experts whose story is told in new George Clooney film 'The Monuments Men'

The prize is awarded for service to the state of Baden-Wuerttemberg and was presented by the region's top culture official, Juergen Walter.

"I never expected such a big honor," Ettlinger said as he accepted the medal, according to German news agency DPA.

The "Monuments Men" or members of the Monuments, Fine Arts, and Archives program, was an Allies' program set up in 1943

after US President Franklin D. Roosevelt was persuaded of the importance of rescuing great works of art from the hands of the Nazis.

The program, whose more than 300 members came from 13 different nations, was tasked with tracking down some five million pieces of art looted by the Nazis from persectued Jews or institutions in the nations they conquered.