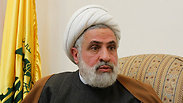 Hezbollah Deputy Secretary General Sheikh Naim Qassem
Photo: Reuters
Lebanon's newly formed government still needs to publish its ministerial statement – a statement outlining the government's formation and agenda – and Hezbollah is demanding it include resistance to Israel.

The statement must be approved by Lebanon's parliament, and its failure to pass is equivalent to a vote of non-confidence.

Related stories:

Now, senior representatives from the March 8 bloc – which includes Hezbollah – are demanding that the statement include "the right of Lebanon and the Lebanese people to self-defense and to the resistance against the Israeli enemy."

The opposing March 14 political bloc prefers "Lebanon's right to defend itself," NOW Lebanon reported.

According to the report, the role of "the resistance" against Israel is the challenge facing the committee in charge of drafting statement.

Lebanon's new cabinet was formed after months of political stalemate.

According to NOW Lebanon, Hezbollah Deputy Secretary General Sheikh Naim Qassem stressed the importance of acknowledging the resistance in the ministerial statement.

"The resistance is one of the main pillars of the ministerial statement," the National News Agency quoted Qassem as saying.

"The ministerial statement would not be consistent if it did not acknowledge the resistance. The most honest and realistic ministerial statement is the one that states resistance (to Israel)," NOW Lebanon reported him as adding.

On Saturday, Hezbollah slammed Lebanese President Michel Suleiman for his hinted criticism at the terror group's demand when he said it was important "not clinging to wooden formulas that hinder the drafting of the ministerial statement."

In response, Hezbollah said that "With all our due respect to the presidency and what it represents, the latest speech delivered makes us believe that (the presidency) has recently been in need of special care, since its occupier cannot differentiate anymore between gold and wood," the statement said.

According to NOW Lebanon, Suleiman quickly responded on Twitter, saying that the presidency needs "recognition of the decisions that had been unanimously taken, namely the Baabda Declaration" – an agreement to keep Lebanon neutral from regional developments, a reference to Hezbollah's ongoing involvement in the Syrian conflict.