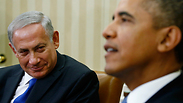 Netanyahu and Obama at the White House, September 2013.
Photo: AP
Prime Minister Benjamin Netanyahu vowed Sunday that he would safeguard Israel's interests during his upcoming meeting with President Barack Obama, as he set off for a five-day trip to the US that also includes a keynote address at the AIPAC conference.
"I am now leaving on an important trip to the US where I will meet with President Barack Obama," he said in remarks published by his office. "We will discuss the Iranian issue and the diplomatic process. I will stand steadfast on the State of Israel's vital interests, especially the security of Israel's citizens.
"In recent years the State of Israel has been under various pressures. We have rejected them in the face of the unprecedented storm and unrest in the region and are maintaining stability and security. This is what has been and what will be."
The talks on Monday with Obama will focus on Iran's nuclear ambitions and the current Israeli-Palestinian negotiations, as well as the ongoing crisis in Syria.
On Tuesday morning, he will address the high-profile annual AIPAC policy conference, also in Washington DC,
The prime minister will find the group trying to show it has not lost its touch after the White House blocked its push for Congress to impose new Iran sanctions.
Related stories:
Amnon Abramovich/ Netanyahu fights with Obama at Israel's expense
Eitan Haber / How can Israel question US support?
Nahum Barnea / Take Kerry at his word
AIPAC also faces questions about how it can move past its biggest legislative setback in years. The stakes are especially high on the Iran issue, the top security priority for both Netanyahu's government and America's pro-Israel community.
Speakers at the conference will include the now de rigueur cast of leading US politicians, including Democrats Secretary of State John Kerry, Treasury Secretary Jack Lew and Senator Chuck Schumer. The will be represented by Republicans Senator John McCain and House Majority Leader Eric Cantor.
Other Israeli notables include Israeli Opposition Leader Isaac Herzog, Economy Minister Naftali and chief Israeli negotiator Justice Minister Tzipi Livni.
The Obama administration has made clear it hopes Netanyahu and his AIPAC allies will tone down their opposition while negotiations proceed with Tehran.
But the administration is resigned to taking some flak from Netanyahu. "We don't dictate his talking points," said a senior US official, who also insisted that differences with Netanyahu are about tactics, not the shared goal of preventing Iran from developing nuclear weapons.
Wendy Sherman, the senior State Department official who heads the US negotiating team in talks between Iran and world powers, left little doubt that the administration is keeping AIPAC on its radar screen.
"I've spoken quite directly to AIPAC. I've met with AIPAC," Sherman told a roundtable of Israeli journalists in Jerusalem last weekend when asked about the group's role. "We need to create the space for this diplomacy. And I would urge AIPAC to create this space."
Despite such appeals, AIPAC appears intent on keeping the heat on the administration over Iran. AIPAC leaders, in a New York Times op-ed last weekend, denied suggestions that those pushing for further sanctions were "warmongers" and urged Congress to take back the initiative on Iran.
The group believes that while now is not the time for a Senate vote, Iranian intransigence will soften Obama's resistance and generate broader bipartisan support for legislation that could be introduced before the end-of-July deadline for the talks, the AIPAC source said.
Sanctions could then be triggered if diplomacy fails, the source said.
While Netanyahu will certainly try to rally the AIPAC faithful when he addresses the group on Tuesday, heated rhetoric on Iran could add to tensions with the administration.
In talks with Obama on Monday, an Israeli official said, Netanyahu intends to stand firm on his demand that any final nuclear deal must eliminate Iran's ability to enrich uranium, in contrast to the president's view that Tehran could be allowed to do so on a small scale for civilian purposes.
In Silicon Valley, Netanyahu will meet with the heads of tech giants Apple, Whats App, eBay and LinkedIn. He is also set to sign a "strategic cooperation agreement" with California Governor Jerry Brown, his office said. The agreement covers, among other fields, water conservation, alternative energy, cybersecurity and biotechnology.