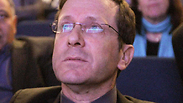 Isaac Herzog
Photo: Ido Erez
After Central Bureau of Statistics data showed an overwhelming increase of 123% in new settlement construction in 2013, the opposition fired harsh criticism towards Prime Minister Benjamin Netanyahu and his administration for a "two-way game."

"While Netanyahu meets with Obama, the truth behind his government is revealed in all its glory – a spike of more than twice in settlement construction," said Opposition and Labor Chairman Knesset Member Isaac Herzog.

"We take one step forward then take a few back, only now time is running out. Congratulation to Netanyahu, he can win the Oscar for best actor."

Herzog continued referencing the recent Academy Awards in order to highlight his argument: "12 years of slavery are needed in order to purchase an apartment in Israel, unless you live beyond the Green Line. It's not a movie, it's the reality. I call on Netanyahu to stop lying to the public. You can bring down real estate prices, but you simply don't want to."

Related stories:

Meretz Chairwoman MK Zahava Gal-On responded to the same subject and said that Israel "has a distorted set of priorities." In an interview with Ynet, Gal-On noted that "the construction in the settlements leads us on a collision course with the Americans and the Europeans, and delays the negotiations. The prime minister needs to pull himself together immediately, and invest in housing and construction within the Green Line for the benefit of the Israeli citizens, and not just for the benefit of the settlers."

On the opposite side, Yesha Council claimed that in terms of quantity, the West Bank has the lowest number of new constructions than any other area in the country, and the spike in the percentages is due to the tender freeze the year before that.

"The increase in new construction in 2013 is caused by the halt in construction tenders in 2012, to a point where there was hardly any construction that year," said Yesha Council Deputy Director Yigal Dilmoni, "thus, any construction in the subsequent year will appear as a dramatic increase."

According to Dilmoni, the 2013 construction was "a limited, small and insufficient building – mainly due to the fact that the population growth rate in (Judea and Samaria) is two and half times the growth rate in other areas. We call on the government to immediately release all the frozen building tenders in Judea and Samaria and therefore increase the supply of housing that is very close to central Israel and aid lowering prices in Gush Dan and Jerusalem."

Elior Levy contributed to this report.