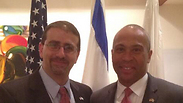 Shapiro and Patrick
Screenshot: US Embassy's Twitter
Massachusetts Gov. Deval Patrick says his trip to Israel this week is all about "cultivating" an important relationship that has generated thousands of jobs for people back in the commonwealth.

Patrick is leading a trade mission with about 120 Massachusetts business leaders. At least six business deals or partnerships are being announced during the visit, Patrick's second to Israel as governor.

According to the New England Israel Business Council, more than 200 Israeli-founded businesses are based in Massachusetts. The council says these companies booked $6 billion in revenue in 2012 and provided 6,600 jobs. In addition, many Massachusetts companies, including tech giants EMC and PTC, maintain research and develop operations in Israel, itself a high-tech powerhouse.

Trade Alliance

Deal designed to encourage development of collaborative projects in life sciences, clean energy, technology sectors

With nearly all of these companies involved in technology sectors, Israel and Massachusetts are "very compatible," Patrick said in an interview Tuesday.

"It's a very, very fruitful — and tangibly so — relationship," he said. "The way to keep it going is to keep cultivating it."

Nadav Efraty is a product of that relationship. When the Israeli entrepreneur wanted to relocate his company, Desalitech, to the United States, he decided that Massachusetts was the best fit. He said he was attracted by the pool of educated talent, support from state officials and the quality of life.

Since making the move, Efraty said, his company's revenues have increased from several hundred thousand dollars a year to several million per quarter, and he has hired 10 people in the US. He said he joined Patrick on a pair of previous trade missions, to Mexico and Japan, resulting in new contracts with global customers like French company Veolia.

"Those things would not have happened without those missions," Efraty said.

Desalitech, which specializes in wastewater treatment technologies, on Wednesday laid the cornerstone for a new project with the Israeli city of Raanana to reopen a municipal water well that had been closed because of the high presence of nitrates. The project will provide drinking water to an estimated 15,000 residents.

Other projects being announced during Patrick's trip include an agreement between MIT and Israel's Ben-Gurion University to establish a fund that will allow faculty and scientists to work together on new research; a partnership between Brandeis University's Rose Art Museum and the Tel Aviv Museum of Art, and a partnership between Needham software company PTC and the Technion Israel Institute of Technology.

John Stuart, a senior vice president PTC, said the new partnership would establish a center at the Technion, often called "Israel's MIT," to help train educators to teach robotics and digital technology.

PTC employs about 260 people in Israel, nearly half of whom are Technion graduates. He said the company's Israel operations are involved in designing most of PTC's new products.

"Some of our most creative and most important work is done in Israel," he said, adding that PTC would hire some of its students as interns and collaborate on other projects. "You have to have the Technion to get the best and brightest," he said.

Patrick will wrap up his trade mission on Thursday and then head to the United Arab Emirates.