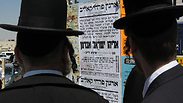 'The situation of homosexuals in the haredi society is much more difficult' (archives)
Photo: Gil Yohanan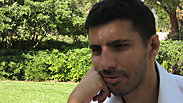 Rabbi Ron Yosef. 'A major mental price'
Two-thirds of ultra-Orthodox homosexuals have chosen to marry women despite their sexual inclination, figures released by the HOD organization for religious homosexuals reveal.

As a result, many of these men are leading a double life, cheating on their wives with other men.

HOD, which is led by gay Rabbi Ron Yosef, was founded almost seven years ago. It started off by aiding homosexuals from the national-religious public, but in the past two years there has been a significant increase in the number of appeals from ultra-Orthodox men from all haredi movements, who now make up about 20% of its members.

Important Information

First-of-its-kind booklet, with introduction written by rabbi, aims to guide religious homosexuals on how to avoid contracting HIV virus.

According to figures presented by the organization for the first time, 1,157 men who define themselves as haredim turned to HOD during those years, and 768 of them (68%) were married. Of those who married a woman, 361 (46%) admitted that they were cheating on her and almost all of them were having sex with men regularly (at least once a month).
Fewer rabbis recommend 'conversion therapy'
According to HOD's figures, the appeals come from famous Hasidic communities (like Ger, Viznitz, Breslov, Chabad, Satmar and Belz) and from prestigious yeshivot (Ponevezh, Porat Yosef, Hebron and others) in the main ultra-Orthodox centers (Jerusalem, Beitar Illit, Modiin Illit, Elad, Beit Shemesh, Bnei Brak and other cities).

Rabbi Yosef says his organization conducts quiet activities among haredim, such as lectures, closed seminars and dialogues with rabbis, which have led to a sharp increase in the number of appeals.

"Fortunately, more rabbis have stopped sending the guys to 'conversion therapy' and are instead referring them to psychologists or reliable and professional social workers," he notes.

"The situation of homosexuals in the haredi society is much more difficult because of the social isolation they live in. A gay haredi man cannot share his situation with his friends in the community or the yeshiva, his family members or rabbis, and 'coming out of the closet' is definitely inconceivable.

"Most gay haredim are married to women who are unaware of their situation, and they are leading a double life. This carries a major mental price."

The HOD association believes that after receiving thousands of appeals, it has a unique database allowing it to study the way the religious and haredi societies deal with this issue and with their homosexual members.

"The information helps develop methods and approaches for the overall coping of the observant public with those with the sexual inclination, and especially helps illustrate the extent of this phenomenon," the organization said in a statement.