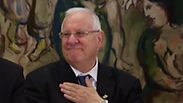 President Elect Reuven Rivlin
Photo: Gil Yochanon
You put up quite a fight," Reuven Rivlin told his rival in the presidential election, Meir Sheetrit, on Tuesday after he was announced as the successor to President Shimon Peres.

Rivlin addressed the Knesset members who elected him as Israel's 10th president after the announcement, telling them, "We have reached the end of a difficult election campaign, the faith of the public in the office of president received a harsh blow and it is our duty to rehabilitate it and restore it."

Looking at the crowd of his soon-to-be former colleagues, he added: "The Israeli Knesset was home for me." First elected to the parliament in 1988, Rivlin expressed his great love for the office and for his fellow MKs. "The Knesset is the spice of life of the Israeli democracy. From this moment I begin a personal process of seperation from the place that has been my home."

Related Stories

But Rivlin will also have to seperate from his political home, the Likud. "This party was my home as I said it would be until I was legally obligated to leave it. Now, I am no longer a party man, I am no longer a faction man. I am everybody's man. A man of the people."

The president-elect thanked his fellow party members Gideon Sa'ar and Haim Katz, as well as members of competing factions: "I also thank my friends Eli Yishai and Shelly Yachimovich, we prove that despite our differences we can live together as one united society."

Outgoing President Shimon Peres offered congratulations to Rivlin saying that he deserved the post of president but playfully reminding him that he would now have to consider all his words carefully.

Rivlin's opponenet Sheetrit noted that the victory was an honorable outcome.

Head of the opposition Yitzhak Herzog announced full support from his side of the partisan divide saying, "I'm convinced that you will be an excellent president and give voice even to those whose opinions differ from yours."

Before Rivlin's speech, Prime Minister Benjamin Netanyahu congratulated him, saying, "You are tasked with two great missions: To unite all the layers and components of society from within and to represent the State of Israel to the rest of the world."

Netanyahu told his fellow faction member that "Israel is the most challenged country on the face of the Earth. We have managed to curb the threats to our existence to this day and to develop this country and take in millions of olim. We have built a glorious state here, but we cannot rest on our laurels."