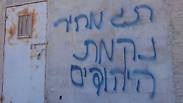 "Price tag blood vengeance"
Palestinians have reported a possible 'price-tag' graffiti attack in a village near Nablus, in what could be a retribution attack for the death of the three Israeli teens who were found dead Monday after being presumed kidnapped since June 12.

An additional 'price tag' was also reported after the words "price tag" and "death to Arabs" were found on the wall of an Arab restaurant in Ashkelon.

The words "Price tag blood vengeance" were scrawled on some shacks in the Palestinian village of Akraba near Nablus early Wednesday and a livestock feeding pen was set ablaze.

The incident came at a very sensitive time, with tensions running high in wake of the discovery of the bodies of Eyal Yifrach, Gil-Ad Shaer and Naftali Frenkel; tensions that were further strained when a Palestinian boy was found dead near Jerusalem Wednesday morning.

Police are investigating whether he was killed in retribution for the boys' death, but there is a chance he was killed because of a domestic issue.

After the Palestinian noticed the graffiti, they informed the Coordination of Government Activities in the Territories and police forces were dispatched to the area and began their investigation.

Even after the three bodies were found, the IDF was preparing for fallout in the West Bank, especially in the Hebron area were massive search efforts were conducted and the IDF demolished the home of Ziad Awad – the terrorist behind the murder of Police Chief Superintendent Baruch Mizrahi on Passover eve – in a village near Hebron.

After the three boys were kidnapped and Israeli-Arab MK Hanin Zoabi said in a public interview that those behind the attack were not terrorists, then a graffiti condemning her and calling for "Death to Arabs", was found scrawled on the walls of the special education school el-Massar in Haifa.

Equipment belonging to the school was also set on fire neighbors extinguished the blaze and the police said it could be a possible 'price tag' attack.

Some two months ago, a mosque was spray painted with a Star of David and tires were slashed in the Arab town of Fureidis. The event joined a string of such 'price tag' attacks which had begun to seep out of the West Bank and into Israel-proper. Two weeks before the Fureidis event, similar scenes were reported in the Arab town of Umm al-Fahm.