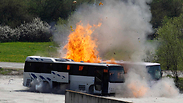 Recreation of Burgas bombing
(Photo: Reuters)
The man who blew up a bus in a Bulgarian Black Sea resort two years ago, killing five Israeli tourists as well as himself, has been identified as a dual Lebanese-French citizen, Bulgarian authorities said on Friday.

Sofia earlier blamed Lebanese Shi'ite militant group Hezbollah for the attack in the Burgas airport carport. The European Union subsequently put Hezbollah's armed wing on its terrorism blacklist. Hezbollah denies any involvement.

Bulgarian media had reported in April that the bomber was of Algerian heritage and had trained in camps in Hezbollah-dominated South Lebanon.

The Israeli tourists had arrived on a charter flight and were in the bus in the airport car park when the blast tore through the vehicle, also killing the Bulgarian driver and wounding more than 30 people.

"The identity of the perpetrator of the bomb attack at Burgas airport is firmly established following DNA tests...," Bulgaria's security agency and prosecutors' office said in a joint statement.

"The perpetrator, who used a fake driving licence under the name Jacques Felipe Martin, (was) in reality Mohamad Hassan El Husseini."

He was born in Lebanon in 1989, had Lebanese and French citizenship and had two accomplices, also of Lebanese origin, who remain at large, the statement added.

"It is known that relatives of Husseini published praise of his death as a 'martyr' on social networks," it said.

Bulgarian prosecutors have named the other two suspects as Meliad Farah, 32, also known as Hussein Hussein, an Australian citizen, and Hassan El Hajj Hassan, 25, a Canadian citizen.

They have said they plan to put the two on trial even if in absentia, and that the investigation is continuing.