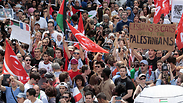 Thousands of pro-Palestinian protesters marched in French cities on Saturday to condemn violence in Gaza, defying a ban imposed after demonstrators marched on two synagogues in Paris last weekend and clashed with riot police.

Meanwhile, government forces in Indian-controlled Kashmir fired on protesters rallying against Israel's invasion of Gaza, killing a teenage boy, police said. Protests were also reported in London.

A Reuters photographer said demonstrators in northern Paris launched projectiles at riot police, who responded by firing teargas canisters and stun grenades. Demonstrators also climbed on top of a building and burned an Israeli flag. At least one car was set on fire.

A police spokesman said that 38 demonstrators had been arrested by early evening and that the clashes were dying down.




Elsewhere in Europe, a man set off a security alert in Geneva when he stopped a tram to retrieve bags that included a book with a radical Islamist image in it, police said.

The alert coincided with a demonstration against Israel's assault on Gaza that drew some 300 protesters to the front of the UN European headquarters in the Swiss city.

In London, thousands of pro-Palestinian demonstrators marched peacefully clutching Palestinian flags and banners reading "Stop the bombing" and "Free Palestine" before congregating outside of the Israeli embassy.

The Israeli-Palestinian conflict has contributed to growing tensions between France's Muslim and Jewish populations, both of which are the largest in Europe.

French President Francois Hollande said he understood emotional responses to the killing of hundreds of Palestinian civilians in the Gaza Strip in a flare-up of hostilities with Israel but would not allow violence to spill over into France.

"That's why I asked the interior minister, after an investigation, to ensure that such protests would not take place," he told journalists during a visit to Chad.

Interior Minister Bernard Cazeneuve justified bans in Paris, the Sarcelles suburb and the Mediterranean city of Nice by saying the security risk was too great, prompting outrage from left-wing and pro-Palestinian groups.

He had asked police in cities to examine security risks city by city and, where necessary, to issue ban orders.

The far-left New Anticapitalist Party, an organizer of last Sunday's rally and the banned one in Paris, urged protesters in Paris to defy the ban, prompting police to issue a warning.

"Those who do not respect the ban, in support of protests or against them, face the risk of being stopped, arrested and handed over to the courts," Paris police said in a statement.

However, large crowds defied the warning and gathered in the capital chanting "Israel, assassin" in front of police barricades. Rallies were also held in more than a dozen other cities, from Lille in the north to Marseille in the South.

"This ban on demonstrations, which was decided at the last minute, actually increases the risk of public disorder," the Greens Party said in a statement. "It's a first in Europe."

In the first three months of 2014 more Jews left France for Israel than at any other time since the Jewish state was created in 1948, with many citing rising anti-Semitism as a factor.
Anti-Israel protest in India
Indian troops opened fire after the protesters clashed with security forces in Khudwani, a village south of Srinagar, the main city in Indian Kashmir, a police officer said. Police did not give the boy's age, but residents said he was 15 or 16.
Kashmir has witnessed massive pro-Palestinian protests almost every day since Israel launched its military campaign in Gaza. Protesters have burned Israeli flags and clashed with government forces at several places in the region, injuring at least five people.