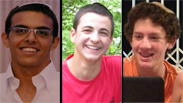 Eyal Yifrah, Gil-Ad Shaer, Naftali Frenkel
Photo: Shaul Golan
A senior Hamas religious figure admitted Wednesday that Hamas had kidnapped and murdered Gil-Ad Shaer, Naftali Frenkel and Eyal Yifrah, the three Israeli teens who disappeared June 12th only to be found dead three weeks later after a massive IDF search mission.

This is the first time any Hamas official has taken responsibility for the murder of the boys.

In recording from a Muslim scholars conference, Sheikh Saleh a-Arouri is heard praising the "kidnapping to Hebron of the three settlers," which he described as "blessed heroic action" which was "carried out by the al-Qassam Brigades" – Hamas' military wing.

"There are those who say that it was your brothers in the al-Qassam Brigades, who carried it out for the sake of al-Qassam members who are in jails and who sit in a hunger strike," al-Arouri said.

IDF Engineering troops destroyed overnight Sunday the homes of Amar Abu-Eisha and sealed off the home of Marwan Kawasmeh, the two terrorists who killed the three teenagers Gil-Ad Shaer, Eyal Yifrach and Naftali Frenkel.

The troops also destroyed the home of Hossam Kawasmeh, who is accused of assisting Eisha and Marwan Kawasmeh. Hossam Kawasmeh was arrested in July south-east of Ramallah in a Special Forces operation that was aided by the Shin Bet.

While they were working, the soldiers were pelted with stones and Molotov cocktails. The troops used crowd dispersal means. None of the troops were hurt.

The IDF said the demolition work was done in accordance with the decisions of GOC Central Command, Maj.-Gen. Nitzan Alon, after the Supreme Court rejected three appeals against the demolition.

Shortly after midnight, 250 Border Police troops from the Judea and Samaria Division, along with dozens of Engineering Corps troops and other units that blew up, destroyed and sealed the homes.

The IDF said "the security forces continue in their efforts to find the kidnappers. The IDF will continue taking any legal means at its disposal to hurt the terrorists and those who aid them, and deter them from committing additional attacks."