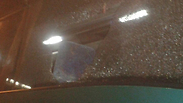 Bus hit in stone-throwing attack in West Bank
Photo: Tzevet Hatzalah Spokesman
Two separate incidents, both most likely motivated by a nationalistic background, took place on Monday evening in Jerusalem and Shomron.
A two-and-a-half-year-old infant was lightly wounded by glass shards after unknown perpetrators hurled rockets at a bus in a Jerusalem street. Earlier in the evening, a Molotov cocktail was thrown at a bus on Route 505 between Tapuach and Sha'ar Shomron. The bus driver suffered light wounds from glass shards from the windshield of the bus.
Yarkon Area Magen David Adom (MDA) teams treated the bus driver at the scene, while IDF troops combed the area for suspects. In the Jerusalem incident, Magen David Adom teams evacuated the child to the city's Hadassah Medical Center at Mount Scopus, and police forces scanned the area.
The infant sustained wounds to her face and legs from the glass shards. Hagai Vangush, a MDA paramedic said that she had been sitting next to the window. "The bus stopped under a bridge and we gave her medical treatment," Vangoush added. "There weren't many passengers on the bus and she was the only one who needed medical attention."


On last Thursday, a two-year-old toddler was lightly wounded when a stone was thrown at an Israeli vehicle near the Yitzhar junction in the West Bank. According to the IDF, dozens of Palestinians had been throwing stones and various objects at Israeli vehicles that were driving through the area.
A day earlier, a women suffered minor wounds after unknown assailants threw stones at a minibus in the East Jerusalem neighborhood of Wadi al-Joz. MDA paramedics gave her initial treatment at the scene, and evacuated him to the city's Shaare Zedek Hospital.
Itay Blumenthal and Raanan Ben-Zur contributed to this report.