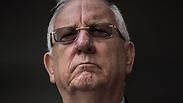 President Rivlin
Photo: EPA
Never before has a call for responsibility between all Israelis been more relevant or more important than in these painful and trying days. In these moments, we who live here, Jews and Arabs, look at each other with suspicion tempered by fury.

We have all the right reasons to entrench ourselves in our self-righteous ways, to stick to loathing, to allow fear and hatred to dictate the direction of our relationship.

But now, more than ever, we must ask ourselves – honestly – if this is the future we have in mind for our children. And if, alternatively, we are willing to accept that our destinies are intertwined forever, we must now make that fate our goal.

As a society, the most pressing task we face is the creation of a new space for dialogue, a space that would allow Israeli citizens to talk to one another but – mainly – to listen to one another. In these times we must learn anew how to talk, how to converse, how to dissent without rejection, how to argue, even if we do not agree.

The tensions in Israeli society do not occur in a vacuum. The State of Israel lives in a harsh, violent neighborhood and within us difficulties abound.

We lose sons, we lose brothers, and we lose friends. The society we live in is far from logical. Despite everything, and maybe because of it, we must decisively declare that violence is not our way. Violence is not the way for the State of Israel. Violence is not the way of the people of Israel.

The time has come for us, the Jews and Arabs of this country, to take responsibility for our lives, our futures, our homes, our streets, and the community. Responsibility for our entire lives here as citizens. Responsibility for the state that we live in and within the civil framework which unites us.

If we do not shoulder the responsibility, no one will do it for us.