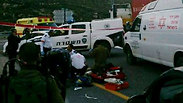 Scene of run-over incident
Photo: Israeli Police
A 60-year-old man was seriously hurt after being run over by a car in the West Bank on Monday, several hours after an Israeli was lightly hurt in a knife attack, also in the West Bank. The victim was evacuated to the Rabin Medical Center in Petah Tikva.
Yarkon Area Magen David Adom (MDA) reported that the wounded man suffered head injuries. Police said that the victim is currently unconscious. According to an eyewitness, a private car hit him and drove off in the direction of Tapuach Junction. Police said they were searching the area.
MDA paramedic Haim Ratazbi, who arrived at the scene of the incident, said: "A 60-year-old man was found lying in the middle of the road, with bleeding head injuries and was unconscious. Along with military medical troops who arrived at the scene, we administered initial medical treatment to the man which included applying artificial respiration while he was anesthetized. We then evacuated him with an IDF helicopter that landed nearby."
Earlier Monday, female terrorist Amal Taqatqa (25) from the village of Beit Fajjar, some eight kilometers from Bethlehem and not far from Gush Etzion, stabbed Josh Lorech with a knife. She had carried another knife with her which was found later on.
Lorech, who was lightly wounded, said he did not feel the knife enter him. "I have a hole in my jacket; I thought it was a dry hit. It is simply a miracle," Lorech said.
After the stabbing, Taqatqa was shot by IDF troops from the Duchifat Battalion of the Kfir Brigade. She is being treated at Hadassah Medical Center in Ein Kerem and is said to be in very serious but stable condition.
On Monday evening, a bus driving in the West Bank on Route 60 was shot at near the Shilo Junction. No one was hurt and the bus continued on its way to Ariel.
Itay Blumenthal, Yoav Zitun and Raanan Ben-Tzur contributed to this report.