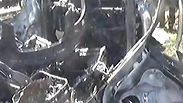 Burnt-out Hezbollah vehicle
Lebanese television channel Al Mayadeen broadcast footage on Monday of the aftermath of a strike on Iranian military and Hezbollah officers, showing a burnt-out vehicle and a scene of general destruction.

Six Iranians, including a general, and six Hezbollah officers – including the son of Imad Mughniyeh – were killed in a strike on the Syrian border, allegedly undertaken on Sunday by Israel.

Al Mayadeen report ( )

According to a report by Al-Akhbar, Mughniyeh, as well as other Hezbollah members and Iranian soldiers, were travelling in two vehicles on the northern section of the Quneitra district, some seven kilometers from the border with Israel.

Al-Akhbr reported that after the two SUVs, a Jeep Cherokee and a Kia Sorento, had moved 400 meters away from a UNDOF base – but before they arrived at a headquarters for the Syrian regime's paramilitary militia – an Israeli chopper fired two missiles, hitting its targets.