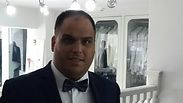 Daniel Fahima
Photo: Eyal Goldstein
Two and a half years ago, Daniel Fahima, a resident of Acre, was critically wounded in a terror attack in Burgas, Bulgaria, which killed five other Israeli tourists and a Bulgarian citizen and wounded 30 others. On Thursday, he married the woman who sat by his bedside while he was in the hospital, helping him get through a long period of recovery.
A few months after the attack occured, while Daniel was hospitalized and unconscious, a 23-year-old woman named Dana Levy – who did not know him but heard about his injury from the media coverage at the time – sent him a message on Facebook, wishing him a speedy recovery.
Once he regained consciousness, he replied to Levy's message, and she came to visit him in the hospital. The two became inseparable ever since, and on Thursday, they sealed their love in a marriage ceremony.
In a particularly emotional moment during the ceremony, Daniel took out of his pocket photos of his friends Elior Priess and Maor Harush, who were killed in the attack, saying: "They will always be with me."
The attack took place on July 18, 2012 when a suicide bomber detonated next to an Israeli tourist bus in the parking lots of the Burgas airport. The Israeli tourists had arrived on a charter flight and were in the bus in the airport car park when the blast tore through the vehicle.