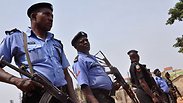 Nigerian police
Photo: Associated Press
An Israeli citizen held captive in Nigeria by militants has been released, it was announced Sunday.
The Israeli, who was working in the beleaguered African nation as a consultant, was kidnapped by an armed gang and held hostage in the jungle for five days. The hostage's employers paid a ransom, paving the way for his release.
When questioned following his release, the Israeli said his captors treated him "all right overall, except for two incidents when they smacked me." He added that the kidnappers gave him food and medicine.
The Israeli, who is in his seventies, works as a consultant for a Nigerian development company. He was scheduled to fly from Lagos, Nigeria's largest city, to the capital city of Eboja. When he failed to arrive at the airport, the company realized something was amiss.
Within hours of the hostage's capture, the kidnappers contacted his company and demanded a $500,000 ransom.
The Nigerian company turned to the Israeli ambassador in Eboja, leading to negotiations that included a security officer working for the embassy. The Foreign Ministry also followed negotiations from Jerusalem and were in touch with the hostage's relatives in Israel.
The company reached an agreement to pay an undisclosed sum as ransom. The Israeli was released five days later and he traveled from Nigeria to another country.
There have been two previous incidents in which Israeli citizens were kidnapped in Nigeria.
News of the hostage's release came a day after Boko Haram's announcement that it had pledged allegiance to the Islamic State group.