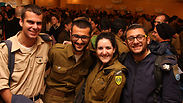 Lone soldiers brought to Israel by Nefesh B'Nefesh (archives)
Photo: Yonit Schiller, courtesy of Nefesh B'Nefesh
More than 1,200 people attended an aliyah mega event in New York City on Sunday, which was organized by Nefesh B'Nefesh (NBN) together with the Jewish Agency for Israel, Israel's Ministry of aliyah and Immigrant Absorption Keren Kayemeth LeIsrael and JNF-USA, in a bid to help potential new immigrants to Israel make informed choices.

The participants who flocked to the Crowne Plaza Times Square took part in aliyah-related seminars and workshops and visit an Israeli vendor marketplace. Israeli professionals from a variety of aliyah-related fields, including shippers, accountants, financial planners, insurance, healthcare, real estate, universities and more, helped prospective olim advance their aliyah plans.

Potential Voters

Videos by Yesh Atid and Kulanu vow to fight to improve lives of Israel's immigrants on eve of general election.

Real estate developers and agents and the Israel Scouts' Garin Tzabar also attended the event.

Participants enjoyed workshops and seminars on topics such as careers in Israel, financial planning, taxes and budgeting, Israeli healthcare and aliyah rights and benefits.

Representatives of The Jewish Agency for Israel also discussed the process for verifying aliyah eligibility and the Agency's programs that help immigrants transition to Israeli life. Nefesh B'Nefesh's Go North and Go South programs were specially highlighted.

The New York mega event also featured Israeli Ministry of Health officials, who helped immigrants speed up the medical licensing process by submitting applications for those who plan to move to Israel soon. These officials also offered seminars on licensing procedures in medicine, dentistry, physical therapy, speech therapy, occupational therapy, nursing, nutrition, pharmacology, and more – and provided personal information sessions.

"In addition to the hundreds of students, professionals and retirees attending today's event, it is impressive seeing so many medical professionals coming from all over North America expressing interest in making aliyah," said Nefesh B'Nefesh co-founder and Executive Director Rabbi Yehoshua Fass.

"Our aliyah fairs are a beneficial way for those contemplating moving to Israel to hear firsthand from an array of professionals, through tailored employment, social and educational sessions on how to build a plan for creating a successful aliyah."

To date, more than 50,000 North American and British Jews have attended Nefesh B'Nefesh pre-aliyah informational seminars throughout the United States, Canada and the United Kingdom, including tailored programs, events and individual counseling sessions.