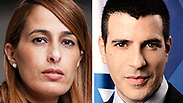 Likud's Nava Boker (L) and Yisrael Beytenu's Sharon Gal
Photo: Avigail Uzi, Yisrael Beytenu spokesperson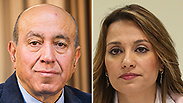 Zionist Union's Zuhair Bahloul and Kulanu's Yifat Shasha-Biton
Photos: Elad Gershgoren, Gil Nehushtan
Two years after the Knesset's current members were elected, they are already considered veteran lawmakers. About one-third of the 20th Knesset's members will be new, and on March 29 they will take part in a special seminar to prepare them for their new job.

Some of them are well known from their public Israeli activity and worked as elected representatives in local councils and municipality. Now they are moving up to a higher league.

Let's meet Israel's new Knesset members.
Likud
Attorney David Bitan, 16th slot. A representative of the Shfela region. He has served as a Rishon Lezion councilman for about 27 years and as the mayor's stand-in for the past nine years. He ran in the primary elections for the 19th Knesset in 2013, but did not make it into the parliament. He is married and has two children.
Jackie Levy, 55, 18th spot. The former mayor of Beit Shean and son of former Minister David Levy. His sister, Orly Levy-Abekasis, is a Knesset member on behalf of Yisrael Beytenu. About 13 years ago, he was injured in terror attack at the Likud headquarters in Beit Shean, which left six people killed. He served as chairman of the Federation of Local Authorities in Israel. He lost the mayorship in the 2013 municipal elections. He has been indicted for environmental offenses along with other senior officials in the Beit Shean Municipality. He is married with seven children.
Yoav Kish, 46, 19th spot. A retired combat pilot holding the rank of lieutenant colonel, and a civil pilot in El Al Israel Airlines. He was one of the leaders of the reservists' protest. About two years ago, he was appointed by Prime Minister Netanyahu as a public representative on the Equal Share of the Burden Committee. He ran in the Likud's primary elections for the 19th Knesset, but did not make it into the parliament. At the beginning of the election campaign he announced that he would run against Netanyahu for the position of Likud chairman, but later decided against it. He is married and has three children.
David Amsalem, 54, 21st spot. A representative of the Jerusalem district. In the past, he served as chairman of the Likud headquarters in Jerusalem. He worked in the Jerusalem Municipality for more than 20 years and was known as an outspoken opponent of Mayor Nir Barkat. Amsalem lives in Ma'aleh Adumim. He is a widower and has two children.
2015 Elections
Roi Yanovsky, Kobi Nachshoni
Yesh Atid lost almost half of its MKs, while a third of Bayit Yehudi MKs will have to look for new jobs. Meanwhile Eli Yishai's Yachad party is demanding the Election Committee investigate voter fraud and irregularities.
Miki Zohar, 35, 22nd spot. Kiryat Gat's deputy mayor. He has been socially active for years, mostly voluntarily, and works in real estate. He has a BA and MA in law and was about to complete his internship as a lawyer. He is married with four children.
Dr. Anat Berko, 55, 23rd spot. A retired lieutenant-colonel, criminologist and author. For two decades, she met with male and female Palestinian prisoners, including some who were closely acquainted with Mohammed Deif, the head of Hamas' military wing. Berko is a research fellow at the International Institute for Counter-Terrorism (ICT) at the Interdisciplinary Center in Herzliya. She comes from an Iraqi family and is married to Reuven, an expert in Middle Eastern affairs and an advisor to the Jerusalem District Police commander on Arab affairs. She has three children.
Nava Boker, 44, 25th spot. A journalist and public activist for firefighters' rights and improving the firefighting and rescue system. She is the widow of police commander Lior Boker, who was killed in the Carmel fire in 2010. She met Boker at the age of 27, when she divorced with two daughters. "In the past four years I have been active in the lifesaving and emergency field. Following the Carmel disaster, I started a foundation which supports the firefighting and rescue system. I plan to continue promoting the issue in the Knesset," she says.
Dr. Avraham Nagosa, 57, 27th spot. A social and political activist working to advance the immigration of Ethiopian Jews and improve immigrant absorption. He made aliyah in 1985, has an MA in social work from the Hebrew University, an MA in entrepreneurship and business administration from the Swinburne University of Technology in Melbourne, Australia, and a PhD in philosophy of education from the University of Sussex in England. He is married with two daughters.
Yaron Mazuz, 53, 29th spot. Mazuz has been active in the Likud party for 25 years. He served as Kiryat Bialik's deputy mayor and a social activist for underprivileged populations in the Haifa, Krayot, Acre and Nahariya area.
Oren Hazan, 30th spot. Hazan is the son of former Likud Knesset Member Yehiel Hazan, who was accused of voting twice on an economic bill and then attempting to tamper with the evidence by removing the machines in question from the storeroom in which they were kept. "At the beginning of the election campaign, I made a bet that the Likud will win either 17-19 Knesset seats or 30-32, and I was right," Hazan Jr. says.
Zionist Union
Prof. Manuel Trajtenberg , 65, 11th spot. Trajtenberg was secured on the Zionist Union list by Hatnua Chairwoman Tzipi Livni, and was the party's finance minister candidate. He led the committee established to recommend economic measures after the 2011 social protest. He served as chairman of the Planning and Budgeting Committee of the Council for Higher Education in Israel and as a professor in the Tel Aviv University School of Economics. Tajtenberg was born in Cordoba, Argentina. He graduated from the Hebrew University of Jerusalem with a major in economics in 1973, and completed a master's degree in economics and sociology in 1976. He received his Ph.D. from Harvard University in 1983. He is married and has three daughters and a grandson.
Attorney Revital Swid, 48, 14th spot. Swid has been a criminal defense lawyer for 23 years. She completed her BA and MA in law at Bar-Ilan University. She served as chair of the Criminal Affairs Division of the Israel Bar Association's Tel Aviv District and was a member of the advisory committee of the Israeli Judicial Selection Committee. She owns a law firm which represented Israeli mafia crime families She served as the defense attorney in the murder trial of Ronnie Ron and Marie-Charlotte Pizem for the killing of four-year-old Rose Pizem in 2008 and. She is also an adjunct professor at Sha'arei Mishpat College and serves as a consultant to private companies in matters of criminal law. She has voluntarily represented victims of violence and sexual assault. Swid, who is an observant Jews, lives in Ra'anana. She is married with four children. "This is the first time I will serve as a public representative and I feel a great commitment. We are committed to help the public with its real hardships."
Danny Attar, 57, 15th spot. Atar served as head of the Gilboa Regional Council for about 20 years and is known in his region as a "bulldozer." He was born in Moshav Dvora at the foot of Mount Gilboa, served as a fighter in the Golani Brigade, completed an infantry squad commanders' course and infantry officers' course, served as a platoon commander in Golani and as a company commander in the 13th Battalion. He fought in the first Lebanon War and retired from military service with the rank of lieutenant colonel. He is married with three children.
Zuhair Bahloul, 64, 17th spot. A legendary journalist and sports broadcaster. He learned the secrets of the profession from his mother, who was a journalist and ran an orphanage in Acre. He began his career in journalism in 1974 as an investigative reporter in the Israel Broadcasting Authority, and went on to become a senior sports broadcaster on Israel Radio and Channel 1 TV. As a journalist, he focused on the Arab sector. He published the Israeli Sports Encyclopedia with his colleagues Rami Brosh and Yigal Biton. He is a widower and has three children.
Eitan Broshi, 65, 18th spot. Broshi's most recent position was secretary-general of the Kibbutz Movement. He has also served as head of the Jezreel Valley Regional Council, director-general of the Ministry of Science, Culture and Sports, and a consultant to former Defense Minister Ehud Barak, advising him on settlement issues, infrastructure, and regional development. He was born in Kibbutz Gesher and lives in Kibbutz Gevat with his wife and five children.
Ksenia Svetlova , 37, 21st spot. Like Trajtenberg, Svetlova was also secured on the list by Livni. She is a journalist and Hebrew University doctoral candidate, and served for years as a commentator on Arab affairs for Russian-language Channel 9. She was born in Moscow and made aliyah at the age of 14. She holds a BA and MA in Islamic Studies and the Middle East from the Hebrew University in Jerusalem. She covered the Iraq War from a US battleship in the Persian Gulf and reported from Syria, Lebanon, Cairo's Tahrir Square and Malaysia. She interviewed Yasser Arafat, Ahmad Yassin and Mahmoud Abbas. She lives with her partner and twin daughters. "I plan to work against racism and discrimination in the Israeli society in all sectors and for the right of each man and woman in the State of Israel to live in a place where the values of equality, social justice and human dignity are supreme values," she says.
Ayelet Nahmias-Verbin, 44, 22nd spot. A lawyer, industrialist and board member in many companies. Nahmias-Verbin, who is married to an active IDF reservist, founded the Forum of Reservists' Families and the Israeli branch of the international organization of women board members. She has been a member of the Labor Party since 1991, when she served as an assistant to Yitzhak Rabin shortly before he became prime minister in 1992. She then served as an assistant to the attorney general in the Prime Minister's Office. After Rabin's assassination, she became the director of Shalom Haver, an NGO established in his memory. She is married and has three children.
Prof. Yossi Yona, 61, 23rd spot. Yona served until recently as a professor of philosophy of education in Ben-Gurion University's Education Department a senior research fellow with the Jerusalem Van Leer Institute. He is one of the leaders of the Geneva Initiative and co-founder of the Mizrahi Democratic Rainbow Coalition. He joined the Labor Party in 2012 and ran in the primary elections for the 19th Knesset, but did not make it into the parliament.
Eyal Ben-Reuven, 60, 24th spot. Secured by the Hatnua. Major-General (res.) Reuven served as deputy commander of the Northern Command, a battalion commander in the 401st Brigade of the Armored Corps, and director of Israel's Military Academies. He served as the director of the Born to Freedom Foundation, which works to secure the release of Israeli prisoners of war and owns security and strategic consulting firms. He is married and has four children.
Kulanu
Yoav Galant , 2nd spot. Galant was born and raised in Jaffa. He comes from a family of Holocaust survivors. He began his military career in 1977 as a naval commando in the 13th Flotilla and returned to the unit after completing an officers' course. He served as the Southern Command chief from 2005 to 2010. In September 2010, the government approved the defense minister's recommendation to appoint him as the 20th chief of staff, but the appointment was cancelled following suspicions of planning and construction offenses in his home. Galant is named after Operation Yoav, an operation his father participated in during the War of Independence. The father died when Galant was 17 years Old. Galant sees himself as a defense minister candidate on behalf of Kulanu.

Eli Alalouf, 3rd spot. Alalouf was born in Morocco and immigrated to Israel in 1967. He is an Israel Prize laureate and appears to be a natural candidate for the Social Affairs portfolio, if Kulanu receives it. He chaired the Alalouf Committee which presented a plan for reducing poverty at the cost of billions of shekels, but the plan was not implemented. In the past, he took part in an urban renewal project and worked in the Jewish Agency. He also served as executive director of the Rashi Foundation. In 2006, he was chosen to light a beacon on Israel's Independence Day.

Michael Oren , 60, 4th spot. Oren was born in the United States and began visiting Israel every summer from the age of 15 to work as a volunteer in Kibbutz Gan Shmuel. At the age of 23, after completing his studies at Columbia and Princeton universities, he made aliyah and joined the Paratroopers Brigade. In 2009, he was appointed as Israel's ambassador to the US. His term ended in December 2013. "I have a dream of serving the state in the field I am familiar with," he said once the election results were in. "Our goal is to save the State of Israel from a catastrophe. We can't ignore the fact that there are elements in the world which are threatening to boycott us and impose sanctions on us." Oren is married to Sally and they have three children.

Rachel Azaria, 38, 5th spot. A Jerusalem resident who was educated in Bnei Akiva and served in the IDF as a soldier teacher. She has a BA in psychology. She began her public activity as a student. She was one of the leaders of the "stroller protest," demanding better conditions for raising children in Israel. In the municipal election campaign, she led a struggle against the refusal to publish women's pictures on buses in the capital and was active against the exclusion of women. She is married to Elyashiv, a Talmud teacher, and has four children.

Tali Ploskov, 53, 6th spot. Ploskov was born in Moldova and immigrated to Israel in 1991. She has served as the mayor of Arad for the past four years (on behalf of the Yisrael Beytenu party) and was the first Soviet immigrant to be elected mayor. Her first job in Israel was a chambermaid in a Dead Sea hotel. She also worked as a bank clerk. She began her political career as a city councilwoman and was elected mayor in 2010.

Dr. Yifat Shasha-Biton, 41, 7th spot. Shasha-Biton was born and raised in Kiryat Shmona, where she has served as a councilwoman for the past six years. She has a PhD in education from Haifa University, which she received at the age of 29. She is married with three children.

Eli Cohen, 42, 8th spot. Cohen, a Holon resident, is an account and lecturer at Tel Aviv University. He a retired IDF major and served in a number of senior positions in the business sector. His most recent position was vice president of the Israel Land Development Company. He is married with four children.

Roy Folkman, 39, 9th spot. An expert in public diplomacy, a former director of the Jerusalem Municipality's Strategic Planning and Strategy Department and an advisor to the Jerusalem mayor. One of the founders of the Ruach Hadasha ("New Spirit") movement. In the past two years, Folkman has been serving as a strategic advisor to the public and third sector. He has a BA in economics, Islam and Middle Eastern Studies from the Hebrew University and an MA in public diplomacy.

Attorney Merav Ben Ari, 39, 10th spot. A Tel Aviv-Jaffa councilwoman on behalf of the Rov Hair faction. She has a BA in law and government from the Interdisciplinary Center (IDC) in Herzliya and is studying for an MA in business administration, specializing in public leadership. During her first year of college, after failing to receive a scholarship, she traveled to Japan to work in a market stall in order to pay for her studies. She served as chairwoman of the IDC Student Union. In the IDF, she served as an education officer in the Golani Brigade.
Yesh Atid
Haim Yalin, 56, 7th spot. Served as head of the Eshkol Regional Council in the Gaza vicinity area since 2007 and was one of the most memorable faces from Operation Protective Edge. His son, an IDF fighter, was lightly wounded during the operation. He was born in Argentina and made aliyah at the age of 18. He served as a lone soldier and as an instructor in a tank commanders' course. He is a member of Kibbutz Be'eri. He is married and has four children. "The most important thing for me is to care for the Gaza vicinity communities and the agriculture through the Knesset. This is an issue which has not been dealt with for years," he says.
Joint Arab List
Attorney Aiman Uda, 40, 1st spot. Head of the joint Arab list, which won 13 Knesset seats and removed the threat of not passing the election threshold. He served as secretary-general of Hadash (the Democratic Front for Peace and Equality), grew up in Haifa. He is married and has three children.

Aida Touma-Sliman, 50, 5th spot. A member of the political bureau of Hadash and the Communist Party. Worked for four years as the editor-in-chief of the Al-Ittihad daily, served as the executive director of Women Against Violence and has been active on the international level on the issues of peace, women's rights and against the occupation. Originally from Nazareth, she now lives in Acre.

Engineer Abd al-Hakim Hajj Yahya, 51, 6th spot. A member of the Islamic Movement. He lives in Tayibe and was elected as the city's mayor in the past. He has two academic degrees in civil engineering and geodetic engineering from the Technion. He has four children.

Dr. Yosef Jabareen, 43, 10th spot. An Umm al-Fahm resident, married with four children. He is a lecturer on human rights law and education at the Tel Hai Academic College and Haifa University, and the founding director of Dirasat – the Arab Center for Law and Policy. He served in the past as a legal advisor to the Association for Civil Rights in Israel in the Haifa and northern region. He wrote the legal chapter in the Future Vision of the Palestinian Arabs in Israel document in 2006.

Attorney Osama Sa'adi, 52, 12th spot. A resident of the Arraba local council in the Lower Galilee. He studied at the Hebrew University in Jerusalem, served as chairman of the Arab Student Union in Israel and has been the director of the Ta'al party since 1996.

Dr. Abdullah Abu Maaruf, 50, 13th spot. A representative of the Druze community. He is one of the first conscientious objectors in the Arab-Druze community. He studied medicine in the Soviet Union, specializing in urology. He is one of the first physicians in the village of Yarka and one of the leaders of the Arab-Druze Initiative Committee.
Bayit Yehudi
Yinon Magal , 46, 6th spot. A secured spot. The former editor-in-chief of the Walla! Website. Served as an officer in the Sayeret Matkal elite unit. He began his career in journalist as a reporter on Israel Radio and later served as Army Radio's correspondent in the territories and as Channel 10's military correspondent. He co-anchored Channel 1's central news broadcast, "Mabat," for four years. Magal, who does not wear a skullcap, says that he observes Shabbat and that his children study in the state religious education system. He is married with three children and lives in Tel Aviv.
Attorney Bezalel Smotrich, 35, 8th spot. A secured slot for the Tkuma party. Smotrich is the former chairman of the Regavim movement, which monitors and document illegal Palestinian activity in state lands within the Green Line and in Judea and Samaria. He is a member of the Tkuma party, which is affiliated with the Chardal (nationalist haredim) public. In 2005, several days before the disengagement from Gaza, Smotrich was arrested by the Shin Bet on suspicion of organizing the protest plan against the evacuation of Gush Katif communities, which included blocking roads and burning tires. He was released three weeks later without being indicted. In 2006, he was involved in organizing the Beast Parade in Jerusalem against the LGBT community. He is married with five children and lives in Kedumim.
Yisrael Beytenu
Ilan Shohat, 40, 4th spot. Shohat has served as the mayor of Safed since 2008. Upon his election, he was the youngest mayor in Israel at the time. He was named after his aunt, Ilana Ne'eman, who was murdered in the Ma'alot massacre in 1974. In 2012, he was investigated by the National Fraud Investigations Unit on suspicion of taking a bribe during the 2008 elections, but the Northern District Prosecutor's Office eventually decided to close the case.

Sharon Gal, 40, 5th spot. A journalist and media personality. He anchored Channel 10's "Layla Kalkali" ("Economic Night") show for several years, hosted a show on Channel 20 and a daily show on Tel Aviv Radio. In the IDF he served on Army Radio, and later hosted a show on Haifa Radio and served as Haaretz's correspondent in northern Israel. In 2014, he founded a real estate company. Personality. He is divorced and has two children and lives in Kiryat Ono

Noam (Dabul) Dvir, Hassan Shaalan, Itay Blumenthal and Yael Veltzer contributed to this report.