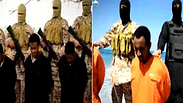 ISIS to Christians: Convert to Islam or die
A new video published Sunday by the Islamic State terror group claims to show two mass executions in Libya. In the video, reportedly shot in Libya, a group of Coptic Ethiopians is executed by a firing squad and another group by a knife to the throat.

The video shows ISIS operatives marching their victims, who don the group's now infamous orange jump suits, along a coastline, presumably in Libya; the second group is dressed in black jump suits and was marched and executed in the desert.

New ISIS video

According to ISIS, the first group being executed was "adherent of the Ethiopian church" – a possible reference to Coptic Christians – and the execution purportedly took place in Libya's Fezzan region.

The second mass execution reportedly took place in the Barqa region. The group failed to name their victims, whose throats they proceeded to cut.

Throughout the long and graphic video, ISIS terrorists are seen taking down crosses and replacing them with Islamic State group flags. It is possible the second group consisted of Egyptian Copts, similar to a previous video in which the group murdered 21 of the faith's adherents in Libya.

"Despite the cross, we have returned," the ISIS narrator said with guns pointed at the first group.

According to the video, the execution is a message to Christians in the region according to which, if they fail to convert to Islam they will have to pay with their lives or face execution at the hands of ISIS. A similar fate befell the Christian community of Raqqa, Syria.

ISIS has gained a significant foothold in Libya, posing a clear and imminent threat to both Egypt and Italy.