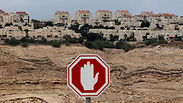 Stop sign near east Jerusalem settlement
Photo: Reuters
The European Union on Saturday added to United States and Palestinian criticism over Israeli plans to build 900 homes in east Jerusalem.

"Israel's determination to continue its settlement policy despite the urging of the international community not only threatens the viability of the two state solution but also seriously calls into question its commitment to a negotiated agreement with the Palestinians," the EU said in a statement.




Settlement watchdog Peace Now reported the latest batch of construction approvals on Thursday, just hours after Israeli Prime Minister Benjamin Netanyahu formed a new rightwing-religious coalition government.

The new homes will be built in the east Jerusalem settlement neighborhood of Ramat Shlomo following a decision late Wednesday by the city's district planning committee, Peace Now spokeswoman Hagit Ofran told AFP.

In a briefing Thursday at the US State Department, spokesman Jeff Rathke called the decision "disappointing" and "damaging".

"This is a disappointing development, and we're concerned about it just as a new Israeli government has been announced," he said. "Moving forward with construction of housing units in east Jerusalem is damaging."

"We continue to engage with the highest levels of the Israeli Government, and we continue to make our position clear that we view this as illegitimate," Rathke said.

In March 2010, Israel's interior ministry announced a plan to build 1,600 settler homes in Ramat Shlomo, an ultra-Orthodox Jewish neighborhood in east Jerusalem.

That announcement came as US Vice President Joe Biden was visiting Israel, provoking fierce American opposition and souring relations with Washington for months.

In his reelection campaign in March this year, Netanyahu vowed to step up settlement construction in east Jerusalem, which Israel captured in the 1967 Six Day War.

Palestinians decried the new Israeli government, in which the far-right Bayit Yehudi is a key partner, with senior official Nabil Shaath blasting what he termed a "colonial settler cabinet".