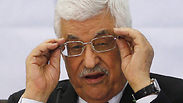 Mahmoud Abbas
Photo: Reuters
Palestinian President Mahmoud Abbas on Friday said Israel is blocking peace by continuing to expand settlements on occupied territory, but reaffirmed his support for a two-state solution based on the pre-1967 border.

"What prevents the achievement of this desire is Israel's continuation of its occupation and settlement activity and imposing realities on the ground," said Abbas, speaking at a regional World Economic Forum conference in Jordan.

Abbas did not refer to the changed circumstances created by the formation of a new hard-line Israeli government this month; key members of which oppose land concessions to the Palestinians. A US-led negotiation effort broke down about a year ago, and current prospects for resuming them are slim.

Israelis re-elected the hard-line Benjamin Netanyahu two months ago in part because they reject the Palestinians terms, which include not just a near-total pullout from the West Bank and a division of some sort in Jerusalem - but also because the regional chaos has them in a cautious frame of mind.

The prime minister has voiced support in recent years for a Palestinian state - but seems very far from the Palestinians' terms. During his campaign he said he did not expect a Palestinian state to soon arise, but later slightly back tracked.

Speaking at the same conference on the shores of the Dead Sea, former Israeli President Shimon Peres said most Israelis nonetheless supported the principle of a Palestinian state. Asked about the possibility that the world community would ratchet up the pressure on Israel, he insisted that more negotiations - despite decades of failure - were the answer.

"I'm convinced that there will be no better alternative (to) the two-state solution," said Peres, who is also a former prime minister. "I believe it is possible. I believe it is needed. I believe that peace negotiations can be resumed and the sooner the better."

Many moderate Israelis are concerned that the default outcome is a single state in which Jews will not be the majority - and which, if Jews continue to dominate it, would cease to be considered a democracy.

On Monday, Netanyahu handed responsibility for any future peace talks with the Palestinians to his new Interior Minister Silvan Shalom, a nomination denounced by Palestinians, who said Shalom did not believe in the two-state solution.

Meanwhile, international pressure to resume talks has increased. On Thursday, French magazine Le Figaro announced that France is pushing forward with its Middle East peace initiative, shortening the deadline for Israeli-Palestinian talks from two years to 18 months. If a two-state solution is not reached by the end of the 18 months of talks, France will announce it is officially recognizing the State of Palestine.

On Tuesday, the United Nations' new Middle East envoy, Nikolay Mladenov, said he and UN Secretary-General Ban Ki-moon would engage Israel's government to explore "realistic options" for a return to talks with the Palestinians aimed at a two-state solution "within a reasonable timeframe."

And last week the Jordanian and German foreign ministers held a joint press conference in which they urged the resumption of talks.