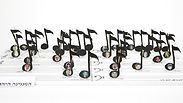 'Jewish Melody,' a project by Yonatan Reznikov of Ashdod, Israel
Photo: Nir Shaanani
Hundreds of middle-school and high-school students from 25 countries who created artworks illustrating their families' Jewish histories have joined together for a special ceremony of the Beit Hatfutsot – The Museum of the Jewish People's popular My Family Story Program in partnership in the United States with the Israeli-American Council (IAC).

The special event, which was held last Sunday at Beit Hatfutsot in Tel Aviv, marked My Family Story's 20th anniversary and honored 40 winners from more than 200 submissions to the International Competition in Memory of Manuel Hirsch Grosskopf.

Video marking My Family Story's 20th anniversary

Among the winners were 10 students from the US, where the IAC has helped rapidly expand the program from 15 participating schools a year ago to 49 schools today. Parents of the 10 US student winners also attended the event thanks to support from the IAC.

In total, more than 20,000 students from 155 schools and educational institutions participated in the Jewish roots initiative, from Argentina, Australia, Austria, Canada, Costa Rica, Germany, Greece, Israel, Italy, Mexico, Russia, Spain, Turkey, Ukraine, the US and Venezuela.

"A year ago we joined with Beit Hatfutsot to help grow My Family Story in the US because we believed in its potential to lead young Jews into powerful journeys of discovery and identity," said IAC Chairman Shawn Evenhaim.

"We aimed to double the number of participating educational institutions from 15, and we're now in 49 schools and growing from strength to strength. We want every Jewish student in the US to be proud of their Jewish heritage."

My Family Story is a global educational initiative and an unforgettable Jewish peoplehood experience in which middle- and high-school students ages 12-15 research and present their family stories in order to explore their collective Jewish history.

A curriculum created at the International School for Jewish Peoplehood Studies at Beit Hatfutsot in Tel Aviv, My Family Story allows students in Israel and in Jewish communities around the world to embark on a fun and meaningful, personal, experiential and multi-generational Jewish heritage project.

Through rigorous research and inspiring creativity, the students produce an art installation illustrating their journey into their family roots and connection to the greater story of the Jewish people.