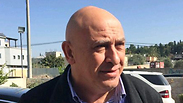 Joint Arab List MK Basel Ghattas
A flotilla carrying humanitarian aid for the Gaza Strip set sail from Crete overnight Thursday, the Palestinian news agency Ma'an reported.

On board the Swedish "Marianne av Göteborg" boat are Joint Arab List MK Basel Ghattas and former Tunisian president Moncef Marzouki, alongside 70 other activists and crew.

Pro-Palestinian activist Dror Feiler, an Israeli who also participated in previous attempts to break Israel's blockade of the Gaza Strip, claimed Thursday that there were attempts to sabotage the flotilla.

In an interview with the Nazareth-based Radio al-Shams, Feiler said that "Somebody went underneath the boat at night and sabotaged its propellers."

Feiler said a similar sabotage attempt to sabotage one of a flotilla's boats happened in 2011, which is why the activists tried to stay in Greece as little as possible. Before arriving in the Greek island, the Swedish boat docked in Palermo and Messina in Sicily.

He claimed that "There are 'dark forces' that are trying to stop us in all kinds of ways. This was someone who knew what he was doing."

The flotilla is due to arrive in Gaza on Sunday or Monday, but it seems unlikely Israel will allow it to reach the Gaza coast.

Earlier this week, MK Ghattas defended his decision to join the flotilla, calling the MKs criticizing him "hypocrites."

"They're just trying to get headlines on my expense and I'm not afraid of this kind of conduct. If they revoke my degree, it'll be undemocratic," he said.

Ghattas said the flotilla is transporting medical equipment to hospitals in the Gaza Strip.

He also warned Israel of interfering with the flotilla, saying, "I don't want to compare this to what happened with the Mavi Marmara flotilla, but I want to remind you Israel apologized for this incident in the end."

The Knesset's House Committee discussed a request to suspend Ghattas this week, with right-wing MKs vowing to prevent such flotillas with legislation while members of the Joint Arab List insisted "this is a flotilla of peace."

The Knesset plenum also discussed an urgent proposal submitted by Kulanu MK Merav Ben Ari who said, "it can't be that an MK harms the sovereignty of the state he represents. I advise the MK to board the boat, sail to Gaza, stay there and help them solve the humanitarian crisis from inside the Strip."