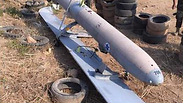 The alleged Israeli drone
Photo: Twitter
The Lebanese army said an unmanned Israeli reconnaissance drone crashed into the sea off the port of the northern coastal city of Tripoli on Saturday. The IDF declined comment on the reports.
"Around 8:30 am, a drone that belongs to the Israeli enemy crashed at Tripoli port," the Lebanese army said in a statement.
Lebanese media reported the army closed off the area and pulled the aircraft out of the water. After examining the drone, the reports said, "it turned out this was an Israeli drone."
The Lebanese army also posted photos of the aircraft in its official Twitter page.


Three weeks ago, Lebanese security forces claimed an aircraft that crashed in the Bekaa region belonged to Israel.
A security source in Lebanon told Hezbollah's Al-Manar TV channel that the drone crashed overnight and that an Israeli airstrike on Sunday morning blew up the drone to ensure it is destroyed. Earlier, Al Jazeera reported that Israeli attacked in the area.
However, there has been no official confirmation that the drone was indeed Israeli, and it is believed it was actually a Syrian drone shot down by the rebels.
Ten months ago, an Israeli drone crashed in southern Lebanon. The IDF said the crash happened due to technical issues during routine operations along the border.