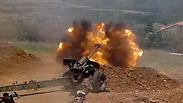 Fighting in Zabadani
Photo: EPA
Hezbollah chief Hassan Nasrallah has issued a threat to all jihadists fighting to topple President Bashar Assad in Syria: Surrender or die.
Speaking in an event marking the International al-Quds (Jerusalem) Day, Nasrallah said Monday that "the road to Jerusalem passes through Zabadani, Qalamoun, Homs, and Al-Hasakah," thus trying once again to explain that his organization's fighting in Syria is part of the struggle for the "liberation of Jerusalem and Palestine".
Lately, the fighting in Syria has been centered in and around one of these cities – Zabadani, on the western outskirts of Damascus.
Zabadani is the last city still controlled by the rebels, after the Syrian army and Hezbollah conducted a large-scale operation in the strategic Qalamoun mountain district on the outskirts of Damascus near the Syrian-Lebanese border.
Fighting in Zabadani
Zabadani is very important to both the Syrian regime and Nasrallah, mainly due to its location at the center of the smuggling axis from Syria to Lebanon. In addition, its conquest would slightly alleviate the threat to the capital Damascus.
Hezbollah and the Syrian regime's intensive operation to reclaim Zabadani, which was captured by the rebels in 2013, includes ground fighting, artillery shelling and massive air bombing. This operation, and the siege placed on Zabadani, which started on July 4, is part of the wider Hezbollah military operation, intended to return to Assad control of the Syrian-Lebanese border.
Zabadani, which overlooks one of the roads crossing from Syria to Beirut, has 65,000 inhabitants, in addition to displaced people arriving from other combat zones.
The Syrian regime and Hezbollah media have been focusing more and more on the fighting in this area in recent days, and constantly report on the progress of their forces. As on other fronts, in Zabadani, the Syrian army is extensively using the method of dropping explosive barrels bombs.
Fighting in Zabadani
According to the rebels, dozens of Hezbollah fighters fighting alongside soldiers of the Syrian Army's 4th Division, have been killed in recent days on this important front.
Sources close to Hezbollah, however, have other figures. One of them told the Lebanese newspaper The Daily Star that so far 12 Hezbollah fighters, 16 Syrian army soldiers and 200 rebel militants were killed in the recent fighting.
"Every one of our fighters slain in Syria is slain for the sake of Syria, Lebanon, Palestine and all of the region's nations," Nasrallah said.
Among the groups fighting against Hezbollah in the region are the Islamist Ahrar al-Sham, Nusra Front (an Al-Qaeda branch in Syria), and groups identified with Islamic State.