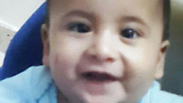 The parents and four-year-old brother of the Palestinian baby murdered in a Jewish terror attack remain in critical condition on Saturday, as a mourners tent was set up outside the Sheba Medical Center, where they are hospitalized, in memory of the slain baby.
"Burned alive," "The world is heartless" and "Don't burn the children" were some of the banners waved by children and teens that arrived at the mourning tent, and called to bring the killers to justice. Ali Dawabsheh was a year and 10 months old when he died.
Reham Dawabsheh, 27, Ali's mother, is suffering from burns on 90 percent of her body, while her son Ahmad, 4, is suffering from burns on 60 percent of his body. The two are hospitalized at the Sheba Medical Center. Saad Dawabsheh, 31, the father, is hospitalized at the Soroka Medical Center in Be'er Sheva, with burns on 80 percent of his body. Their injuries are life-threatening.
Palestinian intelligence head Majid Faraj, negotiator Saeb Erekat and health minister Dr. Jawad Awaad visited Ahmad Dawabsheh in the hospital on Saturday at noontime.
Faraj and Erekat also visited the mourners tent along with Palestinian Prime Minister Rami Hamdallah, while Awaad also visited the father of the family at the Soroka Medical Center.
Nasser, Saad Dawabsheh's brother, who arrived at the Soroka Medical Center, demanded on the Israeli government "to provide us protection as a people living under the occupation, the stop the murderers and bring them to justice."
"This is a government that encourages settlers, that keep saying slogans like 'Death to Arabs', so the government is part of the incitement," he added.
The attack was strongly condemned both in Israel and abroad.
Palestinian President Mahmoud Abbas compared the crime to the 2014 murder of Abu Khdeir. "This is another crime committed by the settlers and the Israeli government," he said.
"The Israeli government continues to build settlements everywhere in the West Bank, and thus encourages settlers to commit these acts. We condemn the Israeli crimes – this is a war crime and a crime against humanity. We will take this to the International Criminal Court and no one will stop us from doing so. We demand that the world act. What does the United States think of these crimes? We don't hear from it. If the Israeli government and the Israeli military wanted to prevent these incidents, they could have prevent them."