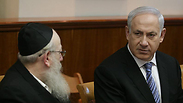 PM Netanyahu and Deputy Minister Litzman. (Photo: Gil Yohanan)
Photo: Gil Yohanan
In a dramatic decision handed out by a five-judge panel, the Supreme Court ruled Sunday that Deputy Health Minister Yaakov Litzman of the haredi United Torah Judaism party must cease to be a deputy within two months.

The court added that Mr. Litzman can legally be appointed as a full minister, which is the most likely course of action, though it would be a first for United Torah Judaism.

Under the current situation, MK Litzman serves as a deputy minister with minister powers, a common arrangement made in order to allow members of United Torah Judaism to be part of coalition governments without being full government members. The reason for this arrangement is seemingly the unwillingness by members of United Torah Judaism to take part in government decisions, some of which are contrary to their world view.

If MK Litzman does indeed become health minister, he will be the first member of United Torah Judaism to be a full member of the government in decades. The first Minister of Welfare, Yitzhak-Meir Levin, was a member of Agudat Yisrael, a previous incarnation of United Torah Judaism. The office of Prime Minister Netanyahu, who currently serves officially as health minister, has stated that they will respect the court's decision.

"It eludes us why Litzman did not take action and remove the need for a ruling on this embarrassing petition, by joining the government as a Minister," wrote Justice Elyakim Rubinstein in the decision. The decision further stated that the 'historic' political institution of Deputy Ministers serving in Minister capacities is illegal, as it does not fulfill the requirements of either a minister or a deputy minister under Israel's Basic Law: The Government (2001).

The minority opinion of Chief Justice Miriam Naor suggested that MK Litzman should be given the choice between becoming a full minister officially, or becoming a regular deputy minister, without the Minister authorities that separate him from other such deputies.

Deputy Minister Litzman's office responded to the decision by saying, "We have accepted the High Court of Justice's decision and will study its implications. The subject will be brought before the Council of Torah Sages, whose ruling we will follow." The Council of Torah Sages is the supreme rabbinical policy-making council which parts of the haredi public follow, including those represented by United Torah Judaism.

MK Yair Lapid, whose Yesh Atid party served the court with the petition in this case, responded to the decision by saying that Israel deserves a full time health minister. "The Supreme Court announced to the government today that the period of political games is over. The health system in Israel is one of the most complex and problematic and it deserves a minister who can fill the role with all the authority and responsibilities required by a minister in Israel" said Lapid.