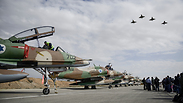 (Photo: IDF Spokesperson)
48 years have passed since the first American-built McDonnell Douglas A4 Skyhawk landed in Israel, with the anniversary being marked by an official parting ceremony at Hatzerim air base on Sunday. The ceremony featured a flyover, and the veteran jet's last official flight with the IAF.
The Air Force parted with the "Ayit," Hebrew for eagle – the name given to the Skyhawk, with three active duty Major Generals: Air Force Commander Amir Eshel, Head of the Manpower Division Hagai Toplonski, and Head of the Planning Directorate Amikam Norkin, piloting three of the jets flying overhead – alongside other active duty pilots.
"Ayit pilots marked great historical events in the history of aerial combat," Air Force Commander Amir Eshel said, "Many of the force's achievements are the outcome of the combination between the small plane and the greatness of its pilots.
The Ceremony
"Completing such a long service requires experts with abilities from the world of alchemy. The servicemen from the Technical Division from all ranks and the Material Directorate Headquarters, are at the end of an era which is an example for professionalism, determination and devotion, a source of might for the entire Air Force," Eshel said, and added that, "On the way to this point we lost many people both in the air and on the ground. Their memory will not face."
Eshel emphasized that, "When one door closes another door opens," during his speech. He was directly referring to the anticipated arrival of the IAF's newest and stealthiest jet, the F35, which is set to land in Israel in less than a year.
Veteran pilots and squadron commanders from several generations took part in the ceremony. The jets stopped flying operational missions nearly two years ago, and have since been limited to training new pilots.
According to the Air Force, "The Skyhawk era in Israel was opened on December 29, 1967 when the first four Skyhawks were unloaded from a ship which arrived at the Haifa Port and absorbed into the "Valley" and the "Flying Tiger" Squadrons, established especially for the arrival of the new aircraft."
The Skyhawk jets led the American Aircraft era in the IAF and it was one of the IAF's veteran and most reliable aircraft and leaves behind it a legacy of successful operations, as it took part in every Israeli campaign ever since it entered service and even served as the IAF's primary strike jet in the "War of Attrition".
"During the "Yom Kippur" War, the Skyhawk Squadron aircrews took off to about 1000 operational sorties in the southern front. About half of the aircraft were hit during combat and six aircrew members ejected from their aircraft in enemy territory, and seven were killed," according to the Air Force.