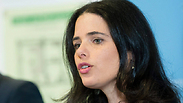 A Hebrew University professor called Justice Minister Ayelet Shaked "neo-Nazi scum" on his Facebook page on Monday, leading the minister to announce she would file a complaint with police.
Dr. Ofer Cassif of the Political Science Department shared a post by colleague Professor Amiram Goldblum, who posted an image of Shaked alongside sharp criticism of the bill approved Sunday that requires NGOs who receive more than half of their funding from other countries to make a note of this in publications and reports released to the public.
Dr. Cassif added his own thoughts when he shared the post, writing that "this neo-Nazi scum is not only partly responsible for the fascisization of Israel, but is also an indirect partner to genocide in Africa and crimes against humanity. There are no words left in the dictionary that can describe this filth."
"Those who give more weight to what I wrote on my Facebook page than to the policy of a government that actively kills, steals, incites, and censors - they are the ones with a problem of priorities," Dr. Cassif told Ynet on Monday.
Dr. Cassif, who prides himself on being "the first of those refusing to serve in the first intifada," added that: "I am in no way representing the university and I don't need to be associated with the university. Unlike Im Tirzu or other fascist gangs, the university is a pluralistic institution. There are people here with different positions, and that's a good thing. These are things I wrote on my own Facebook page, not things that are said in class or in lectures. This is a legitimate political statement made within the freedom of expression."
In the original post Professor Goldberg, who is a professor of pharmaceutical chemistry, wrote that Shaked herself lacked "clarity". He argued that funding for her election campaign came from what he called "blood money" raised "in exchange for weapons sold to murderers in Sierra Leone and in South America by a supporter of Ayelet Shaked."
Goldberg was referring to Serge Muller, who is suspected of drug and weapons trading with criminal and terrorist enterprises as well as money laundering, has been detained in Montenegro since March.
Ayelet Shaked's office said in response: "Mr. Muller's donation was received at the time through a third party. The details of the donor were verified and given to the state comptroller in accordance with the law. At the time the donation was received, any criminal matter with which the donor was involved was unknown."
'Gravest incitement against a justice minister'
"The delicate line between the freedom of expression and the freedom of incitement was crossed today, which pollutes public discourse and social media," Shaked said in response to the post. "I'm sure law enforcement authorities will handle this case in an appropriate manner."
The Hebrew University said in response that it is "not responsible for comments made by its lecturers, and it is not the university's place to handle them as long as there is no use of the academic stage to spread these comments. If anyone believes one comment or another constitutes incitement or breaks state laws, they must turn to law enforcement authorities."
Education Minister Naftali Bennett, who is also Shaked's party leader, called Prof. Menahem Ben-Sasson, the president of the Hebrew University, and demanded an immediate and serious response to the comments.
"This is the gravest incitement done against a justice minister in the State of Israel's history. Academia cannot turn into a hotbed for incitement against the minister responsible for the legal system in the country. I demand this matter dealt with immediately, to make it clear that a behavior like this must not be allowed to repeat - from any side of the political map," Bennett said.
Ben-Sasson promised to look into the matter urgently and take disciplinary actions as soon as possible.