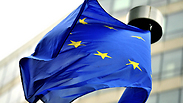 The EU flag (Photo: AFP)
Photo: AFP
The European Union reinforced on Monday its position that products made in Israeli settlements must be clearly labelled in Europe, despite growing tensions with Israel over the issue, but stressed that the bloc opposes any boycott of the Jewish state.

EU foreign ministers said the guidelines on labels for farm and other products, which were unveiled in November and branded discriminatory by Israel, were there to explain EU law and did not mark a change in the European Union's long-held opposition to Israeli settlements.

"The EU and its member States are committed to ensure continued, full and effective implementation of existing EU legislation and bilateral arrangements applicable to settlements products," ministers said in a statement.

Ministers reiterated the EU's position that the lands Israel has held since the 1967 Middle East war - including the West Bank, East Jerusalem and the Golan Heights - are not part of the internationally recognised borders of Israel.

As such, goods from there cannot be labelled "Made in Israel" and should be labelled as coming from settlements, which the EU considers illegal under international law.

Following the publication of the guidelines, Israel has suspended contact with EU bodies involved in peace efforts with Palestinians, though the government says bilateral ties with nearly all EU countries are strong.

That move appears directed at the European Union's desire for a more active role in seeking peace between Israel and the Palestinians, under EU foreign policy chief Federica Mogherini.

It also comes at a time of high tension between Israel and Palestinians.

Israel's foreign ministry said in response to the statement on Monday that the EU continues to hold Israel to double standard, while ignoring the Palestinian role in stalled peace talks and about 200 other conflicts over territory in the world.

The Palestine Liberation Organization welcomed the EU statement and called for greater European involvement.

EU foreign ministers blamed both sides during the last four months of violence, condemning the killings on all sides and urging Israel to address the deeper causes.