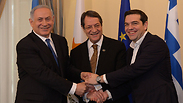 The three leaders meet in Nicosia
Photo: Haim Tzah, GPO
Prime Minister Benjamin Netanyahu met with Cypriot President Nikos Anastasiades and Greek Prime Minister Alexis Tsipras in Nicosia on Thursday to discuss cooperation in the fields of energy, tourism, research and technology, environment, water management, combating terrorism, and migration.

Netanyahu said the leaders agreed to set up a tripartite committee to study the possibility of building a pipeline to carry natural gas found in waters off Israel and Cyprus to Europe via Greece.

"The discovery of important hydrocarbon reserves in the Eastern Mediterranean can serve as a catalyst for peace, stability and cooperation in the region," a joint statement by the three leaders said. "To this end, the three countries view the energy sector, and in particular, natural gas and renewable energy, as a solid foundation for cooperation in the Eastern Mediterranean basin."

The Israeli prime minister said the committee would also assess the possibility of an undersea cable to link their countries' electricity grids.

Tsipras said Greece can act as a bridge for the transfer of east Mediterranean gas to the EU.

"These are momentous goals and by working together we can advance them more effectively than we can separately," Netanyahu said.

Tsipras said the leaders agreed that dealing with the largest migration of people since World War II means tackling the problem "at its root" - poverty and war.

Anastasiades said that additional financial support and economic development in war-torn areas would help alleviate the migration crisis.

The three leaders agreed to increase their security cooperation in order to combat the grave dangers posed by terrorism, both regionally and globally.

The defense establishments of the three nations will work together to curb the flow of foreign fighters, restrict financial and military support to terrorist groups, and counter extremist propaganda.

The leaders discussed encouraging tourism by offering joint packages, including cruises and religious, medical and other thematic tourism, and said their three countries' tourism ministers will meet to discuss the issue further.

The countries also signed a cooperation agreement on managing water resources.

"Our states share the same values as well as the conviction that in order to effectively counter multiple challenges confronting us on a local, regional and international level, we must work collectively," Anastasiades said.

The leaders also discussed potential collaboration in other fields, including agriculture, forestation, joint fire-fighting efforts, environmental protection including marine pollution, joint emergency response to natural disasters, exchange of information in emergency situations, joint search and rescue exercises, health, management of epidemics, joint scientific projects, development of renewable energy technologies, education, communications and trilateral roaming agreements, and commercial shipping.

The leaders said they would meet again in the second half of this year.