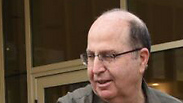 Defense Minister meets with students in Kfar Blum
Defense Minister Moshe Ya'alon said Monday that Breaking the Silence are being investigated for treason after a report on Channel 2 revealed the organization's efforts to obtain classified and sensitive information about the IDF's operational and intelligence capabilities.

Talking to high school students in Kfar Blum, Ya'alon stressed that "I didn't say that we should silence them, I didn't say we should outlaw them. I said we will see if classified military documents were in fact used and whether these documents got to where they shouldn't be. An investigation has been opened and we will see where it leads."

In the defense minister's words, "the report aired on Channel 2 exposed that they also ask the soldiers questions which have nothing to do with morals or what they did in the army, and are asking questions about operational secrets. If they use this secret information outside of the country, or if they distribute this information and these documents outside of the country - this is treason. Even if they keep the information to themselves - it is still treason."

"Who is holding these documents? Why do they (Breaking the Silence- ed.) need to know what weapons we use in the air, on land, etc, and what how they're used? Does this really serve their stated purpose of maintaining the moral standing of the IDF? The moral character of the IDF? This is why I decided to open an investigation."

The defense minister added, "if you are really worried about the IDF's moral standing, if you are really worried about our conduct, then why do you go and talk about outside of Israel? It means that there is a political agenda."

Ya'alon also warned that "if soldiers' testimonies to the group made use of secret information, and they exposed this information to people who have no business knowing it, this is also a considered a severe transgression. We will open an investigation against them, and we will see where it leads."