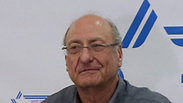 Gen. (res) Amnon Reshef
Photo: Shaul Golan
200 former senior security officials present plan to end impasse
IDF generals and Mossad, Shin Bet, and police equivalents call for freeze on settlement building, acceptance of the Arab Peace Initiative, and recognition that East Jerusalem should be a part of a future Palestinian state; the former security officials also urge the completion of the security fence.
A group of more than 200 military and intelligence officials criticized the government for a lack of action in resolving the Israeli-Palestinian conflict on Friday and issued a detailed plan they say can end the impasse.

The report's publication closely follows the appointment of Yisrael Beytenu Chairman Avigdor Lieberman as defense minister.

With peace talks in a deep freeze the plan by Commanders for Israel's Security on Friday called to "preserve conditions" for negotiations with the Palestinians. It urges a combination of political and security initiatives together with delivering economic benefits to Palestinians in Gaza, the West Bank and East Jerusalem simultaneously.

It calls for a freeze on settlement building, the acceptance in principle of the Arab Peace Initiative and the recognition that East Jerusalem should be part of a future Palestinian state "when established as part of a future agreement."

The group's chairman, Amnon Reshef, a former IDF general, said the plan "refutes the fear mongers" who claim there is currently no Palestinian peace partner or that conditions are not right for negotiations. He said such an argument, which is common in Israel after years of conflict and failed talks, "should not serve as an excuse for passivity and inaction."

Reshef warned "the current status quo is an illusion" that endangers a two-state solution to the conflict.

The plan also calls on authorities to complete construction of the security fence in such a way that does not undermine the two-state solution. In particular, it urges authorities to complete construction around Gush Etzion, Ma'ale Adumim, and the southern West Bank.

Reshef said his groups' plan aims to preserve conditions for future peace talks with the Palestinians while bettering Israel's national security, regional and international ties in the interim. "In our experience we know that you cannot defeat terror only by military means, you have to improve the Palestinians quality of life," he said.

The group of military veterans said it hopes the plan will be considered by decision-makers and by the general public in Israel as well as in the U.S., where a campaign with the Israel Policy Forum, an NGO, will be launched next week.