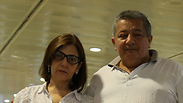 Arifa and Assad Farajov
Photo: Ofer Meir
The couple Arifa and Assad Farajov immigrated to Israel on Sunday from Azerbaijan and began looking for an apartment in Bat Yam for their children and grandchildren, who will join them in August. This seemingly typical story of a family choosing to move their lives to Israel has an unusual detail: The wife is Jewish, and her husband is Muslim.

Arifa, 58, said to Ynet, "Most of my extended family is here; we've been wanting to come to Israel for a while. We love the country and it's important to us to come here, also because of our grown children's decision to build their lives here." In Azerbaijan, Arifa was a senior lecturer on Russian literature. She added, "We're very excited, despite the exhaustion. The reception has been very warn, and everything is very organized and nice."

The couple, who immigrated with the International Fellowship of Christians and Jews (IFCJ), raised their three children in a strongly Muslim-majority country. "It never bothered either us or our extended family. Honestly, even my grandmother—my mother's mother—a native of Belarus and the daughter of a rabbi, was married to a Muslim," said Arifa. "At university, she met a handsome man from Azerbaijan, left Belarus, and went with him. So when I also married a Muslim, there was no opposition."

Arifa has already visited Israel many times, but this is the first time for her 62-year-old husband. Said Assad, "I've fallen in love with Israel. Back in Baku, there are a lot of Jews, and I've already learned Hebrew words like 'ma nishma' and 'hakol beseder.' People here are great, and from the moment that we landed, they've received us very nicely. Conflicts been Jews and Muslims don't scare us. I was a soldier for many years, and when I stopped being a combat soldier, I became a military judge to punish the same terrorists, some of whom were Muslim. A true Muslim doesn't murder, so I'm not scared of life in Israel."

The IFCJ, headed by Rabbi Yechiel Eckstein, has been working for the last 20 years to bring Jews to Israel by donating to the Jewish Agency. In November 2014, the IFCJ established an independent immigration assistance operation and has so far brought some 4,000 immigrants from ten different countries.

The fellowship reports that in 2016, they aided in the immigration of approximately 4,500 Jews. "We're obligated to help every Jew throughout the world immigrate to Israel while providing every immigrant comprehensive financial and social aid that will guarantee their swift and good absorption here in Israel," said Eckstein.