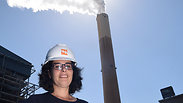 Rinat Avrahami Karniel
Photo: Haim Horenstein
Rinat Avrahami Karniel, 47, of Kibbutz Lahav, has become the first woman in Israel to run a power plant and one of the only women in the world to do so.

Avrahami Karniel is the director of the Rutenberg Power Station in Ashkelon, one of the Israel Electric Corporation's (IEC) two largest. The coal-powered plant provides a sixth of Israel's power and employs some 530 persons, the vast majority of whom are men. Only 26 are women.

Avrahami Karniel, who has two master's degrees, began working for the IEC 20 years ago. She has worked in many positions in the plant, the most recent being the operating engineer and interim director at the Ramat Hovav (near Be'er Sheva) site.

,

She commented on Tuesday, "Work in the power plant is dependent on professional ability and on amongst the world's leading complex technologies, and I am excited about the task and the huge challenge. They say that I'm very task-oriented, and I happily accept that description. The tasks before me are challenging."

IEC CEO Ofer Bloch said, "Rinat was appointed as power plant director not because she is a woman, but because of her skills, experience and abilities. That said, integrating women into senior management is one of the goals set by the corporation's board of directors and management. Rinat's appointment is a significant step for women working in the Israel Electric Corporation and in Israeli society."