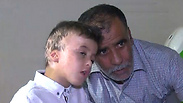 Ahmed Dawabshe and his grandfather
Ahmed Dawabshe has been released from the hospital after being treated at Tel HaShomer military hospital for close to a year after an arson attack which killed his entire family. His mother, father, and brother died when their house was set on fire.

However, a long road of recovery still lies ahead for the Palestinian boy who just turned six years old earlier this week.

Ahmed's grandfather Hussein Dawabshe said "we were in the intensive care unit and afterwards in the children's ward. The doctors treated us well and made us feel like we were in a good place. They treated Ahmed's wounds in the best way possible and with devotion. I congratulate them."

"(Ahmed) is doing well," the grandfather continued, "but there is still a long road ahead. He needs to undergo plastic surgery and additional surgeries to his nose and hands. However, he is able to walk, and he's feeling good."

Doctors only told Ahmed his family's fate a few months ago. "He knows his whole family is dead. He's a smart kid. I wasn't able to tell him," his grandfather said.

Ahmed went through an extensive series of surgeries, and now gets around while wearing compression shirts due to the severe burns he sustained in the fire. Even after his release, he will still need to get to the hospital several times a week for treatment.

"I would like to thank the dedicated doctors and medical staff. They're the best doctors in the world and saved Ahmed's life," His grandfather said, continuing "we're the only family he has left, I won't leave his side until the end of my days."

Dr. Asher Barzilai, head of the Safra Children's Hospital at Sheba Medical Center in Tel HaShomer said that the child's condition is very good. "He came to us with burns covering 70% of his body. He received medical treatment from the best doctors in Israel including the head of the burn unit. The treatment was complicated, and statistics show that the majority of children with these types of injuries don't make it. However, after a month in the burn unit, he was able to be transferred to the children's ward. As his condition improved, he was able to be moved to the rehabilitation unit. Today, he is able to walk and use his hands."