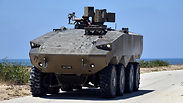 The Eitan.
Photo: Ministry of Defense
IDF unveils its first wheeled APC
The Defense Ministry promises that the new armored vehicle 'Eitan' is the most sophisticated and well-shielded. It is capable of seating up to 12 soldiers, reaching 90km per hour; its development was catalyzed after a deadly APC incident during Operation Protective Edge and in preparation for possible Lebanon war.
The Defense Ministry officially unveiled the most well-shielded and first wheeled new 'Eitan' armored personnel carrier (APC) on Monday which will be added to active duty use alongside the IDF's Namer ("Leopard") APCs, mainly used by the Golani brigade.

The new APC will be equipped with an active interception defense system capable of intercepting incoming anti-tank missiles—similar to the Trophy system already used by some IDF tanks. Despite this addition, the the 35-ton beast is expected to cost around half that of its predecesor, which costs approximately $3 million.

The IDF intends to gradually replace all of its outdated M-113 APCs, one of which was used during the APC disaster in Protective Edge, in which seven Golani fighters were killed by an anti-tank missile fired at their APC in the Gaza Strip.

The Eitan is said to be faster and more agile than the heavy Namer APC, and is able to reach speeds of 90 KPH with a 750 horsepower engine. It is also intended to be less reliant on trucks for its transportation (heavy IDF armored vehicles are usually transferred large distances by special trucks, in order to save fuel, as the armored vehicles' engines are less fuel-efficient. -ed).

The plans for a wheeled APC were initially born in the IDF prior to Protective Edge, but they were fast-tracked in thw wake of the occurrences of the 2014 Gaza operation. Moreover, its became concerned that ground forces, during a possible third war in Lebanon, would be forced to maneuver through hostile territory in obsolete armored vehicles.

Despite hopes that the Eitan will be better suited to avert similar catastrophies which beset the IDF in 2014, the Defense Ministry did not shy away from admittng that wheels, rather than tracks, represented a disadvantage if actually struck by an enemy missile.

"The built-in disadvantage to a wheeled vehicle is its (diminished) ability to be protected in the battlefield, even though we've shielded the Eitan as much as possible," the defense ministry said in a statement.

The first Eitan APCs will undergo shielding experiments and operational tests after which the IDF will decide on the scope of the new armored vehicle's use.