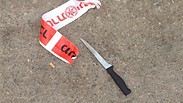 The knife used in the stabbing.
Photo: IDF Spokesperson's Office
A Palestinian man stabbed an IDF soldier from the Nahal Brigade's 50th Battalion near Hebron's Tel Rumeida neighborhood on Saturday morning in the fifth attack this weekend. He was shot and killed by another soldier.
Stabbing attack
Friday saw four attacks, including a stabbing in Hebron, an attempted stabbing in Jerusalem, a vehicular attack in Kiryat Arba, and an incident of stone-throwing at a bus on Highway 1.
According to an initial investigation into the Saturday morning attack, the Palestinian man arrived at an IDF checkpoint, where he was asked to show the soldiers identification. He handed them a piece of paper, and then pulled out a knife and stabbed one of them.
The soldier, lightly wounded, was taken to Shaare Zedek Medical Center in Jerusalem.