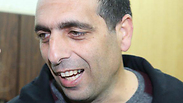 Ofek Buchris
Photo: Motti Kimchi
Disgraced IDF officer admits to sexual misconduct as part of plea
Following a lengthy court battle, Brg. Gen. (res.) Ofek Buchris admits to acting in an inappropriate sexual manner towards female soldiers under his command during his time as head of the Golani brigade; Buchris to see psychiatrist to determine if he is a threat to society.
Brig. Gen. (res.) Ofek Buchris confessed on Sunday morning as part of a plea deal to having had illegal sexual relations with a soldier under his command and to having acted in an inappropriate sexual manner towards another officer in the Golani Brigade while he was its commander five years ago.

The military court accepted his confession and convicted him.

Buchris, who admitted to the charges after months of vehemently denying them, received a suspended sentence and was demoted to the rank of colonel.

The judge also sentence Buchris to see a psychiatrist, whereby an extensive investigation will be conducted on the sexual habits of the convicted officer in order to determine if he poses a threat to society. The outcome of this type of examination is typically secret.

The initial charges against Buchris filled seven pages and included 17 counts of rape, indecent acts, and sodomy. Meanwhile, the new indictment filed as part of the plea deal fits on one page and includes only two charges: forbidden sexual relations that were consensual and conduct unbecoming of an officer.

"This is an important day for the complainant, and is akin to coming full circle," said Avital Ben Nun, the defense attorney for the soldier A.

"A. went on this journey to close a chapter in her life, and not out of revenge. It was very important that she hear Buchris take responsibility for his actions and apologize, especially in light of all of his denials to the fact," Ben Nun continued.

Meanwhile, Buchris's attorney Oded Savory, said that "Buchris fully cooperated throughout the mediation proceedings. He understands the new indictment and acknowledged it in the plea bargain."