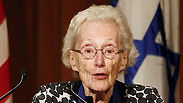 Marion Pritchard
Photo: Gettyimages
Marion Pritchard, a Dutch social worker who managed to save dozens of Jews in Holland during World War II, passed away at 96. Her son, Arnold Pritchard, announced that Marion passed away on Dec. 11th in Washington after battling cerebral atherosclerosis.

Pritchard was named a Righteous Among the Nations in 1981 by Yad Vashem.

Pritchard, formerly Marion van Binsbergen, assisted some 150 Jews, many of them children, and helped provide them food and clothing. Pritchard managed to hide many Jews, but always claimed she couldn't have done what she did without the help of many others. She was 19 when the Nazis invaded Holland in 1940.

Pritchard previously stated that her father, a Dutch judge who detested Nazi ideology, and British mother, instilled in her a sense of moral determination and desire to pursue justice.

Following the war, she worked as a social worker in UN camps for displaced persons where she met her husband—Anton Pritchard—an officer in the US army. She lived in New York and Vermont, where she managed a psychoanalytic institution for many years.