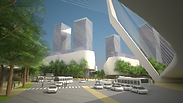 The Central Planning Committee has recently approved plans for the construction of a new Prime Minister's Office and residence in Jerusalem to the tune of NIS 650 million. The plan will see a joint compound comprising of the two buildings, and will be between five to eight stories tall.

However, this won't be the only new construction happening in the capital of the Jewish state.

One of the more ambitious projects approved will be for the entrance of the city which is expected to turn into a new, well designed business district. The cost of the new construction will be more than a billion shekels.




According to the plans, 2,000 hotel rooms are to be added in the area, along with business and tourism offices. It will all be housed in 24 towers, each reaching up to 36 stories in height.

The new business district will also become a major transportation hub, and will incorporate the new high speed rail set to link Jerusalem and Tel Aviv, two light rail stations, bus and private vehicle lanes, and bike paths. City planners expect 100,000 people to travel to and from the district every day.

Additionally, a new rail line is expected to connect the city of Modiin to this new business district. Construction on this line is expected to begin in 2019.

Work on the district has already begun. The first stage of construction includes building a five story underground parking structure which will be able to hold 1,300 vehicles.
1,800 apartments and a hi-tech park
Another project which has been approved for construction will be to build a roof over the Menachem Begin Expressway. As is set to be done on the Ayalon Highway in Tel Aviv, plans were approved to build 1,800 apartments on top of the roof, along with a 78 dunam park. A hi-tech district will be built on the roof as well, and is set to be constructed close to where the expressway turns towards Hebrew University's Givat Ram campus.

Other plans which have been approved include a new sports district, expanding Teddy Stadium to hold 31,000 spectators, a new ice skating rink, and more tennis courts, amongst others.

Finally, plans were approved to build a mega-campus for vocational training along with one for art, theatre, and film school.