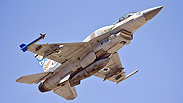 Illustration, F-16
Photo: AFP
Israeli fighter jet shoots down Hamas drone
The Hamas drone was shot down by an Israel Air Force fighter jet before it managed to enter Israel while it was flying from the Gaza Strip to the Mediterranean; IAF: 'The IDF will not allow any airspace violation and will act resolutely against any such attempts.'
An Israeli Air Force fighter jet shot down an unmanned aircraft of Hamas which was making its way from the Gaza Strip to the Mediterranean on Thursday afternoon.

The drone was shot down before it managed to infiltrate Israel, and fell into the sea after being intercepted.

The IDF Spokesperson's Unit said that "the IDF will not allow any airspace violation and will act resolutely against any such attempt."

The drone was operated by militants from Hamas's military wing. It was identified immediately after takeoff and was under IAF surveillance.

According to IDF policy, Hamas UAVs are shot down when they exit Gaza's airspace, either towards Israel or towards the sea.

This is the second time since Operation Protective Edge that the IAF has shot down a Hamas drone. Half a year ago, an F-16 fighter jet was scrambled after a small Hamas aircraft was in the air for a few minutes. The jet fired an air-to-air missile at the UAV, knocking it to the Gazan coastline. Similar incidents with Hamas kites approaching the border have taken place, but none of those were yet shot down.

No Hamas comment was immediately available.

In December, Hamas, which controls Gaza, blamed Israel for killing one of its drone experts in Tunisia. Israel had no official comment.

Israel has in the past voiced concern that armed groups in Gaza and Lebanon would use drones carrying explosives inside its borders in a future war. Hamas and other Islamist militias have fired thousands of rockets at militarily superior Israel in previous conflicts but have made scant use of drones.

Israel is itself a world leader in drone technologies and has used the vehicles extensively in combat.

Those in the defense establishment assess that Hamas has been trying since Protective Edge to rehabilitate its drone system.