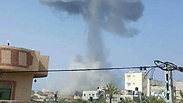 Israel Air Force fighter jets attacked five Hamas terror targets the Gaza Strip on Monday afternoon in response to a rocket fired from the strip that exploded in open area in the Sha'ar HaNegev Regional Council in the early morning hours.
According to sources in Gaza, meanwhile, the IDF attacked 15 targets across the Gaza Strip—including a military post near the Nuseirat Camp in the center of the strip—with four Hamas wounded in eastern Rafah.
The Gaza Interior Ministry called on civilians to stay away from the sites that were bombed.
IDF attacks in Gaza
The rocket fired early in the morning did not activate the Code Red siren. There were no injuries and no damage caused as a result of the rocket.
There was no immediate claim of responsibility for the rocket attack, but the IDF said that it holds Hamas accountable for what happens in the territory.
Defense Minister Avigdor Lieberman said Israel had "no desire or intention to initiate any military move in the Gaza Strip" but that it would not tolerate even a "drizzle" of rocket fire.
"We will not get into a ping-pong situation of fire and counter-fire. I suggest Hamas take responsibility, impose order and calm down," Lieberman said.
Hamas spokesman Fawzi Barhoum said Israel would be responsible for any escalation if it continued to target "resistance positions."
Monday's rocket marks the fourth rocket fired at Israel in the last month.
Last week, two rockets were fired from the Sinai Peninsula near the Egyptian border and landed in the Eshkol Regional Council. There were no injuries in the attack. The rockets were fired at Israel in response to an ISIS claim that an Israeli drone killed five of the terror group's members near Rafah.
In the beginning of February, four rockets were fired from Sinai towards the coastal city of Eilat. The Iron Dome missile defense system successfully intercepted three, while the fourth fell in an open area, causing no damage. ISIS in the Sinai took responsibility for the salvo.
Three days later, another rocket was fired toward the Ashkelon Coast Regional Council. Using tanks and aircraft, the IDF attacked three Hamas positions in the northern Gaza Strip in response to the rocket fire, which emanated from the Gaza Strip.