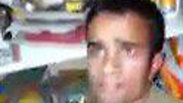 A new video released on Tuesday evening shows a bleeding IDF soldier who accidentally entered a Palestinian village and was attacked by dozens of Palestinians the day before.

On Monday, the soldier from the Technological and Logistics Directorate, who drives a truck transporting water, made the wrong turn in one of the junctions in the Gush Etzion area and ended up in Sa'ir, where many terrorists came from in the last two years.

Palestinian rioters started pelting his truck with stones, wounding him. Some local residents soon came to his aid, bringing him into a nearby structure.

Palestinian police officers who were called to the scene extracted him and he was picked up by IDF forces that took him to the Hadassah Medical Center in Jerusalem for treatment.

An initial investigation into the incident found the soldier was navigating without the help of the GPS app Waze, which is unreliable in the West Bank and has in the past led soldiers into Palestinian villages.